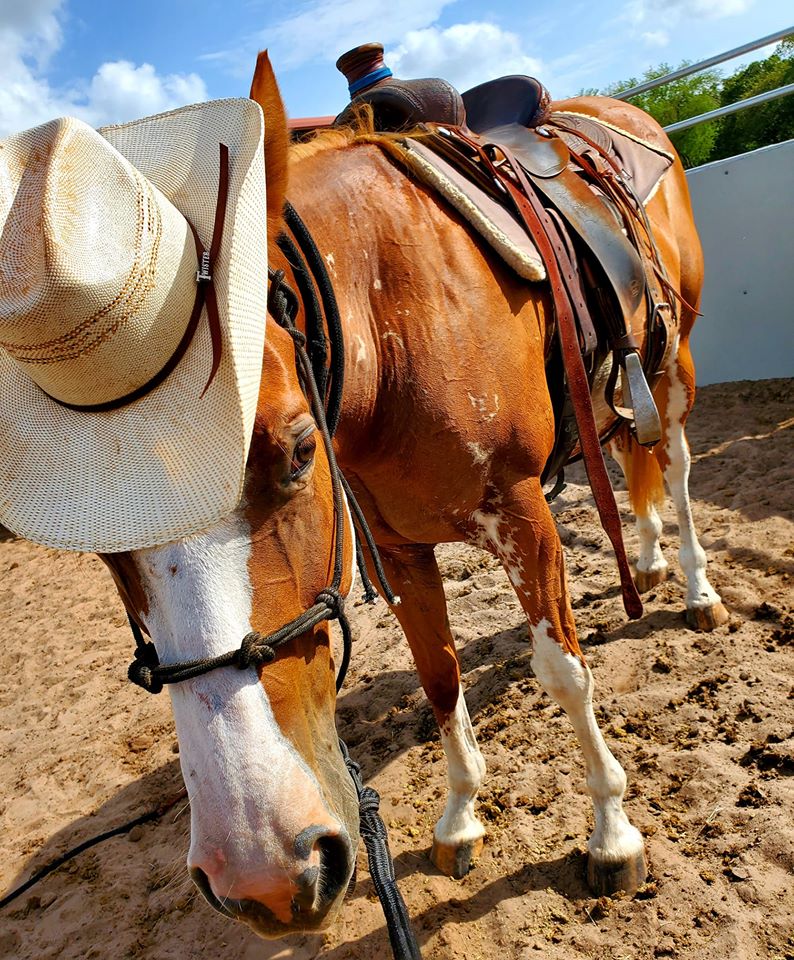 Name: Sprinkles
Status: Bluebonnet Rescue Horse Training Challenge

Adoption Fee: $1800
Arrived At Rescue: October 23, 2018
Location: Victoria, TX
Adoption Date:
Registered: None
Breed: Grade
Paint

Date of Birth: January 1, 2015
Color: Chestnut / Sorrel
Pinto

Gender: Mare

Height:
Sprinkles was removed from negligent owners and placed with Bluebonnet by animal control.
Sprinkles has cataracts in one eye and appears to be blind in that eye. When she arrived, she had several bouts of uveitis in her other eye but has not had a bout of uveitis in over a year.
Sprinkles will be competing under saddle in the Professional division of the Bluebonnet Rescue Horse Training Challenge with trainer Nicole Glenn. She will be available for adoption at the Challenge during the Bluebonnet Horse Expo on October 17, 2020 in Taylor, Texas.
You can follow their progress on their Facebook page.
Evaluation and Training
Sprinkles is good to catch, lead, and load. She stands for farrier work and wears a fly mask. She didn't have much training when she came to Bluebonnet, but she's spending June-October with trainer Nicole Glenn to be started under saddle.
| | |
| --- | --- |
| Trailers: Yes | Bucks: No |
| Leads: Yes | Bites: No |
| Ties: Unknown | Catches: Yes |
| Trims: Yes | Bathes: No |
| Clips: Unknown | Rears: No |
| Kicks: No | |