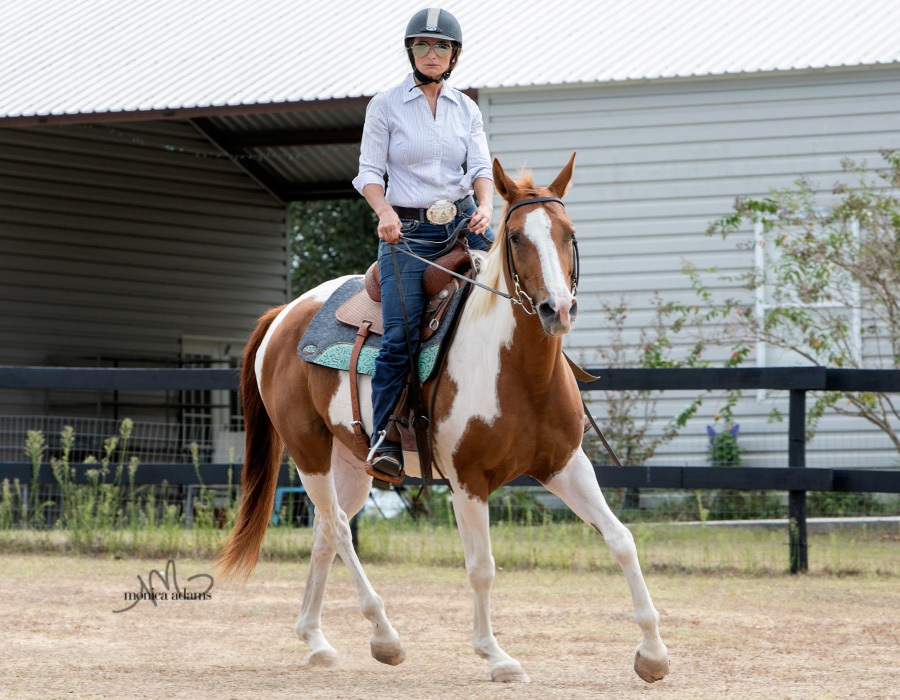 Name: Iris
Status: Adopted

Adoption Fee:
Arrived At Rescue: June 12, 2019
Location: Franklin, TX
Adoption Date: October 30, 2020
Registered: None
Breed: Paint

Date of Birth: January 1, 2012
Color: Chestnut / Sorrel
Pinto

Gender: Mare

Height: 15.1
Iris was removed from a negligent owner and placed with Bluebonnet Equine Humane Society. Iris attended the 2019 Bluebonnet Horse Expo and was adopted but was returned later through no fault of her own.
Evaluation and Training
Iris is a nice, stocky horse who has great potential for trails, pleasure, or possibly even working cattle (with extra training). She is good to catch, she leads well, stands tied, and loads well. She is also good for the farrier and veterinarian. If Iris was ridden before coming to Bluebonnet, it wasn't much and she didn't get any real training. She spent a couple of months with trainer Hilary LoBue. Hilary started her under saddle and said that Iris is a nice horse.
Iris was preparing to compete in the 2020 Rescue Horse Training Challenge with a teenage trainer but withdrew. Her challenge partner said she is improving under saddle, but is still considered green. Iris has a big personality, and can be pushy, if you allow it, but she is very manageable. She will need an intermediate rider, or a novice rider working with a trainer. Iris would not be suitable for a kid right now but this girl has so much potential for an adopter that is willing to put in some time and work with her!
| | |
| --- | --- |
| Trailers: Yes | Bucks: No |
| Leads: Yes | Bites: No |
| Ties: Yes | Catches: Yes |
| Trims: Yes | Bathes: Unknown |
| Clips: Unknown | Rears: No |
| Kicks: No | |