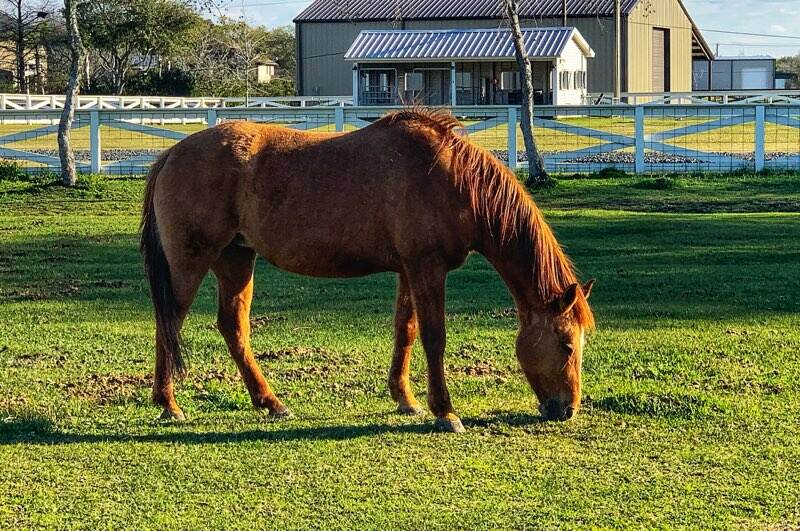 | | |
| --- | --- |
| Name: Buela | Status: In Rehabilitation |
| Adoption Fee: not yet available | Arrived At Rescue: July 16, 2019 |
| Location: Friendswood, TX | Adoption Date: |
| Registered: No | Breed: Grade |
| Date of Birth: January 1, 2002 | Color: Dun |
| Gender: Mare | Height: 14.2 |
Buela was placed with Bluebonnet when her owners were investigated for neglect.
Buela will be competing under saddle in the Non-Pro Under Saddle division of the Bluebonnet Rescue Horse Training Challenge with Catie Heitzman. She will be available for adoption at the Challenge during the Bluebonnet Horse Expo on October 17, 2020 in Taylor, Texas.
You can follow their progress on their Facebook page.
Evaluation and Training
Buela was evaluated by a trainer in late 2019. She said Buela is a rockstar on the lunge. She's a huge mover and covers ground, understands moving away from pressure, gives to pressure at the poll, backs, turns on her haunches. She's balanced and has no problem picking up both leads on the ground. She has definitely been saddled and ridden but it has likely been awhile and it appears she has not had a lot of formal training.
The trainer who evaluated her felt she needed more consistent riding to get back into the swing of things, so she was enrolled in the Fall 2020 Bluebonnet Rescue Horse Training Challenge. Her Challenge partner will be working on riding her, teaching her to navigate man-made trail obstacles, and more!
| | |
| --- | --- |
| Trailers: Yes | Bucks: No |
| Leads: Yes | Bites: No |
| Ties: Yes | Catches: Yes |
| Trims: Yes | Bathes: Unknown |
| Clips: Unknown | Rears: No |
| Kicks: No | |