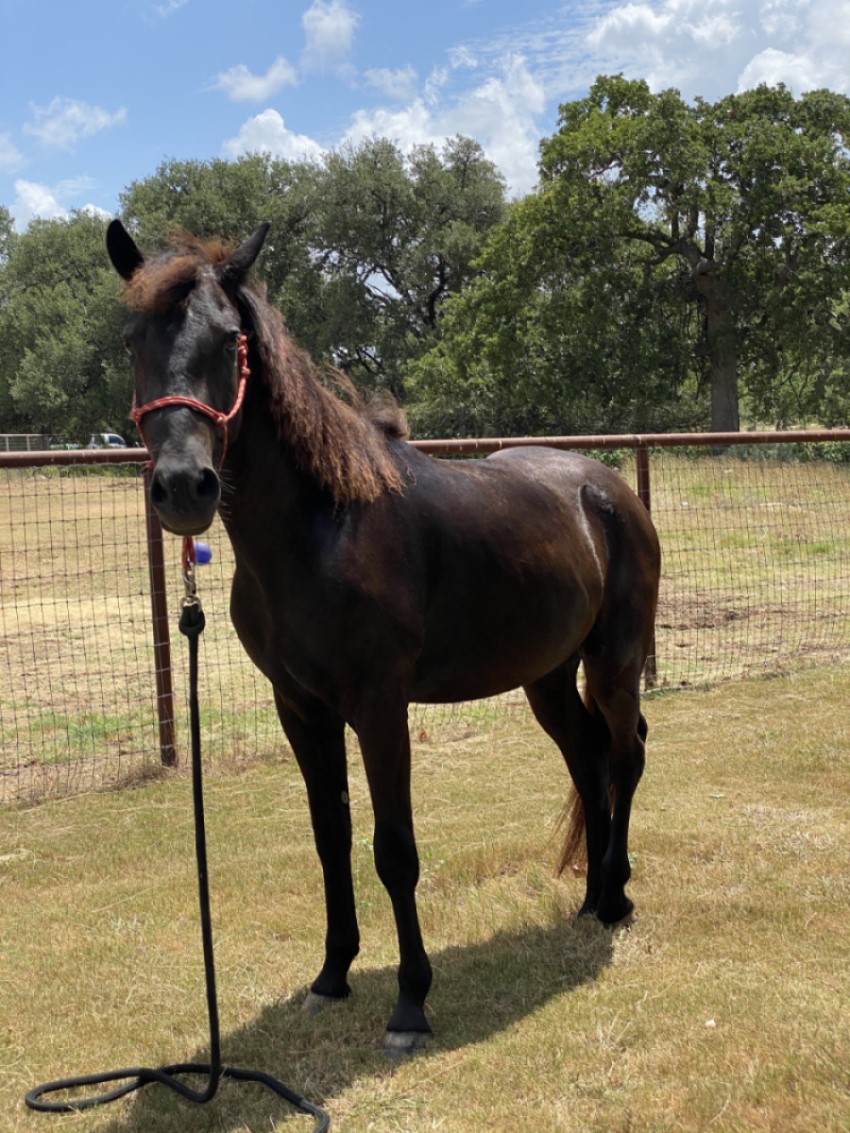 | | |
| --- | --- |
| Name: Noah | Status: Bluebonnet Rescue Horse Training Challenge |
| Adoption Fee: $400 | Arrived At Rescue: August 22, 2019 |
| Location: Boerne, TX | Adoption Date: |
| Registered: | Breed: Grade |
| Date of Birth: January 8, 2017 | Color: Black |
| Gender: Gelding | Height: 13.2 |
Noah was part of a 150+ horse seizure from a rescue that went under. He and his herdmates were removed in a joint effort between Safe Haven Equine Rescue and the local sheriff's department. He was placed with Bluebonnet Equine Humane Society after court.
Noah is a very sweet horse that really needs to trust his handler so he will need a patient adopter willing to build a bond with him.
Evaluation and Training
Noah is an extremely compliant boy. He doesn't have a mean bone in his body. His disposition is soulfully sweet and he has never offered to bite or kick out. However, he does startle easily and is a bit skittish. When he is, he looks to his handler for support. With slow and steady patience, he quickly accepts what is being asked. Due to his age and small frame of 13 hands, he has not been asked to carry a rider yet. He was extremely skinny when he was seized so will need more time to mature physically before being ridden.
Noah has learned: to load and back out of a trailer, yield his front and hindquarters with minimal finger pressure, lunge easily both directions. He stands excellent for the farrier, baths, grooming and saddling. He gets along well with his pasture mate and the family dog. His one vice is he will set back when startled while being tied. He is getting better, but still has a way to go before ever hard tying.
His foster placement was told he had a prior accident of setting back when tied to a pipe stock. When doing so, he thrashed the side of his face against the pipe rail causing a molar to later get infected at the root. The molar was extracted on 6/29/20. The equine dentist judged his age to be 3 ½ at this time. He will most likely always have a hard knot on the right side of his face though from the trauma. Because a molar was removed, any potential adopter needs to be aware that floats will need to be done every 6 months to file the molar below the extracted one until the age of 5- 6 years when the teeth are fully erupted. Noah will also need easy access to shade because he is black and the summer heat is harder on him that lighter colored horses.
Noah's current foster home has been saddling him and doing ground work. She has even sat on his back a few times with someone holding his lead rope. He has taken it all in stride. He is ready to start formal training under saddle.
Because of his sweet nature, in time, he will make an excellent youth horse, once ridden for a year or two by an experienced rider.
| | |
| --- | --- |
| Trailers: Yes | Bucks: No |
| Leads: Yes | Bites: No |
| Ties: Yes | Catches: Yes |
| Trims: Yes | Bathes: Yes |
| Clips: Unknown | Rears: No |
| Kicks: No | |