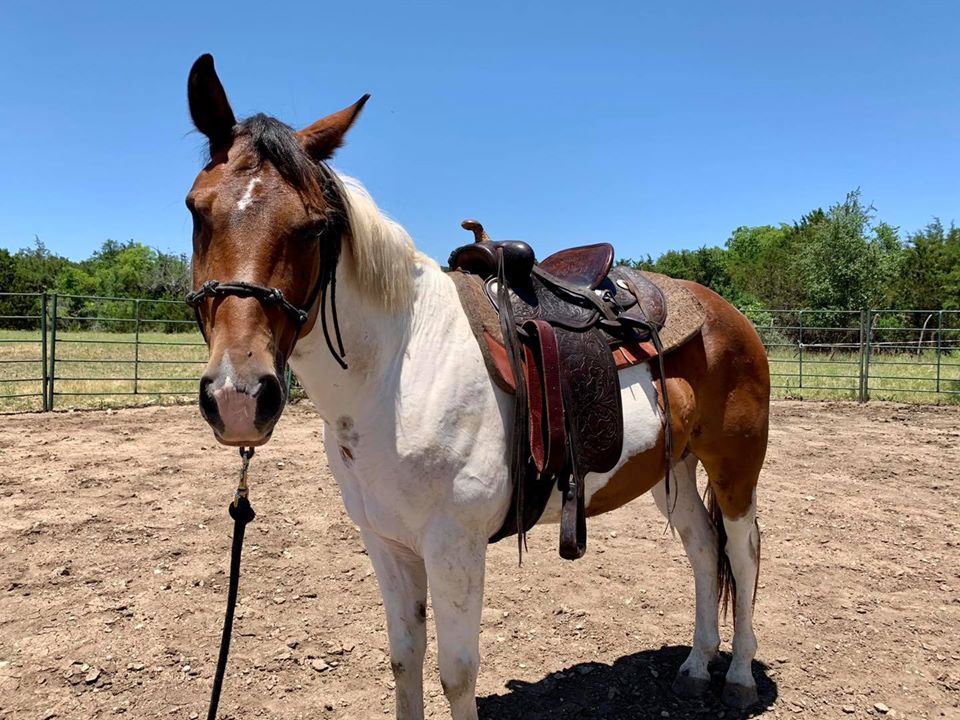 Name: Llano
Status: Bluebonnet Rescue Horse Training Challenge

Adoption Fee: $1800
Arrived At Rescue: August 24, 2019
Location: Bandera, TX
Adoption Date:
Registered: None
Breed: Grade
Paint

Date of Birth: January 1, 2008
Color: Chestnut / Sorrel
Pinto

Gender: Gelding

Height: 14.1
Llano was removed from a negligent rescue by a joint effort between Safe Haven Equine Rescue and The Humane Society of the US along with the Camp County sheriff's department. He was then placed with Bluebonnet.
Llano will be competing under saddle in the Professional division of the Bluebonnet Rescue Horse Training Challenge with trainer Harrieth Stewart. He will be available for adoption at the Challenge during the Bluebonnet Horse Expo on October 17, 2020 in Taylor, Texas.
Llano is blind in one eye.
You can follow their progress on their Facebook page.
Evaluation and Training
It seems that Llano did not have good handling before coming to Bluebonnet. He is spending time with Harrieth Stewart to work on his ground manners and be restarted under saddle.
| | |
| --- | --- |
| Trailers: Yes | Bucks: No |
| Leads: Yes | Bites: No |
| Ties: Yes | Catches: Yes |
| Trims: Yes | Bathes: Unknown |
| Clips: Unknown | Rears: No |
| Kicks: No | |