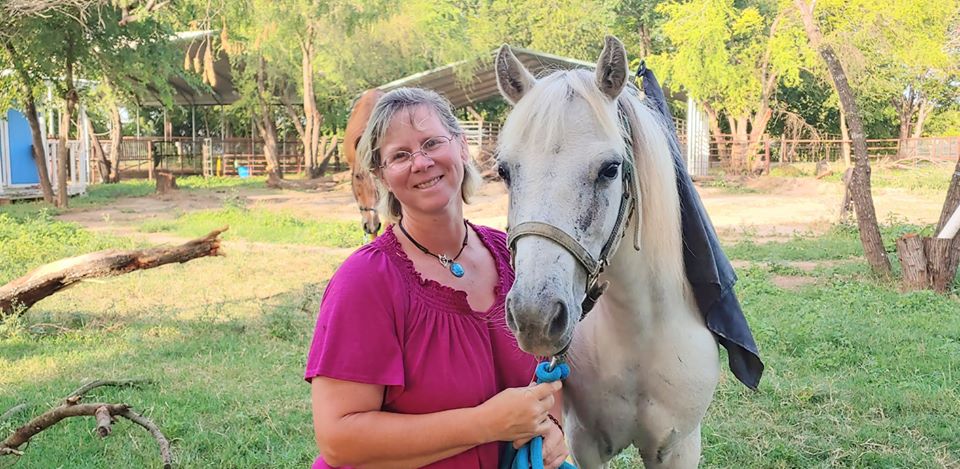 Name: Magpie
Status: Adopted
Bluebonnet Rescue Horse Training Challenge

Adoption Fee:
Arrived At Rescue: November 30, 2019
Location: San Antonio, TX
Adoption Date: August 18, 2020
Registered:
Breed: Miniature Horse
Pony

Date of Birth: January 1, 2004
Color: Grey

Gender: Mare

Height:
Magpie was surrendered to Bluebonnet when her owner could not care for her any longer. She was adopted right away by her adopter but returned a few months later because she was too much horse for them.
Magpie will be competing in the Non-Pro In Hand division of the Bluebonnet Rescue Horse Training Challenge with her adopter, Jennifer Kuhn, at the Bluebonnet Horse Expo on October 17, 2020 in Taylor, Texas.
You can follow their progress on their Facebook page.
Evaluation and Training
Magpie was pretty skittish when she arrived, despite her former owner saying she was broke to drive (we have not verified that statement). However, she's spending almost four months with a non-pro handler to prepare for the Bluebonnet Rescue Horse Training Challenge. She's working on her ground skills, being desensitized, and learning to navigate trail obstacles in hand.
| | |
| --- | --- |
| Trailers: Yes | Bucks: No |
| Leads: Yes | Bites: No |
| Ties: Yes | Catches: Yes |
| Trims: Yes | Bathes: Unknown |
| Clips: Unknown | Rears: No |
| Kicks: No | |