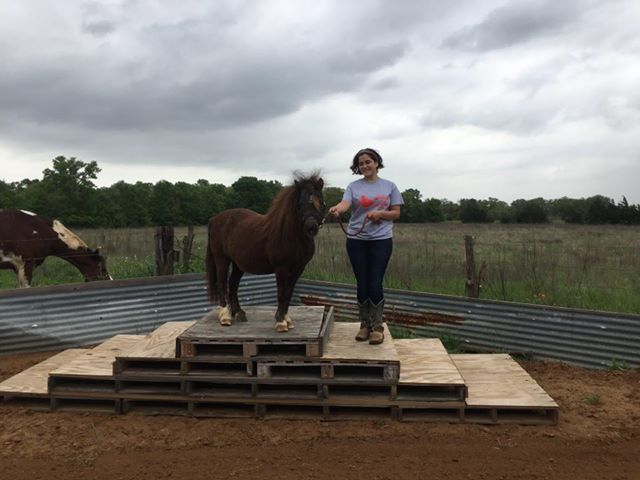 | | |
| --- | --- |
| Name: Tebo | Status: Adopted |
| Adoption Fee: | Arrived At Rescue: November 30, 2019 |
| Location: Hempstead, TX | Adoption Date: October 17, 2020 |
| Registered: AMHR Registry | Breed: Miniature Horse |
| Date of Birth: January 1, 2002 | Color: Buckskin |
| Gender: Gelding | Height: 9.3 |
Tebo was placed with Bluebonnet when his owner could no longer care for him.
Tebo is super sweet and gets along with mares, geldings, and mini donkeys. Tebo tends to be more buddy sour so he needs a friend in the pasture. He has been introduced to dogs, ducks and goats, without any problems.
Tebo will be competing in the Non Pro in Hand 12 & Up Division of the Bluebonnet Rescue Horse Training Challenge with Stacy Davis. He will be available for adoption at the Challenge during the Bluebonnet Horse Expo on October 17, 2020 in Taylor, Texas.
You can follow their progress on their Facebook page.
Evaluation and Training
Tebo was halter broke when he arrived at Bluebonnet, and his first foster home began teaching him to navigate in hand trail obstacles.
Tebo is spending 4 months preparing for the 2020 Fall Bluebonnet Rescue Horse Training Challenge. His trainer says he will load in the trailer easily. He picks up his feet with a light touch and a cue, and is great for the farrier. He doesn't mind getting painted on or getting a bath. He will lunge both directions.
They are working on standing tied, basic ground manners, and obstacles. He walks through obstacles pretty well!
He can be a little impatient, wanting to walk a little faster on lead when he wants to get away, and dancing a lot standing tied, but he is progressing.
His trainer is working really hard to have him ready for a beginner, but right now a person with confidence is needed.
| | |
| --- | --- |
| Trailers: Yes | Bucks: No |
| Leads: Yes | Bites: No |
| Ties: Learning | Catches: Yes |
| Trims: Yes | Bathes: Yes |
| Clips: Unknown | Rears: No |
| Kicks: No | |