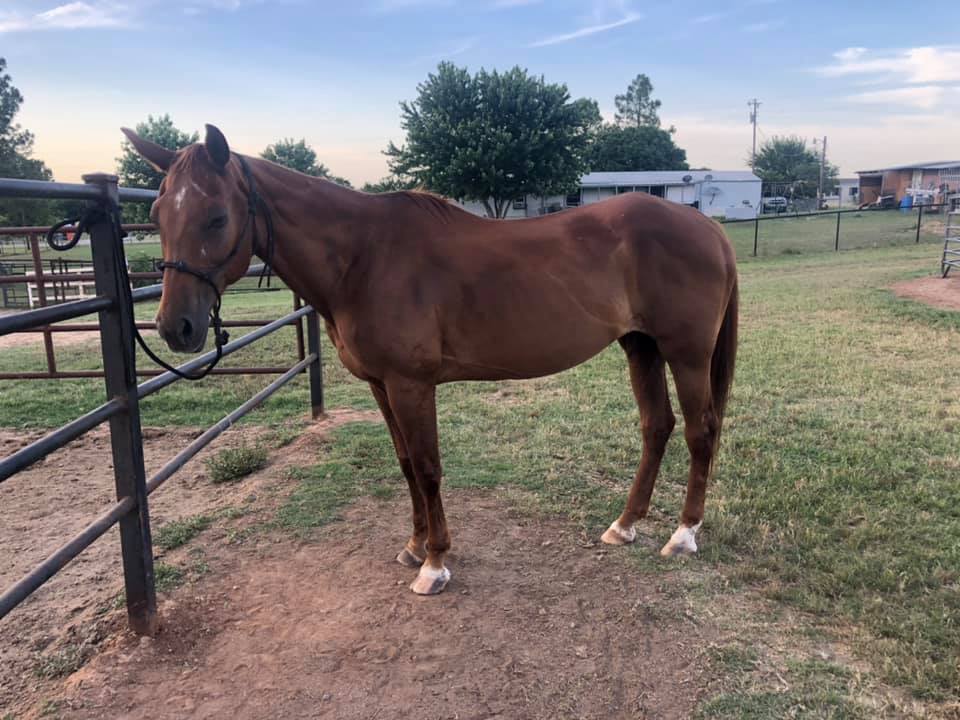 | | |
| --- | --- |
| Name: Maple | Status: Bluebonnet Rescue Horse Training Challenge |
| Adoption Fee: $1800 | Arrived At Rescue: January 4, 2020 |
| Location: Springtown, TX | Adoption Date: |
| Registered: No | Breed: Grade |
| Date of Birth: January 1, 2005 | Color: Chestnut / Sorrel |
| Gender: Mare | Height: 15.1 |
Maple came to Bluebonnet when her owners were investigated for neglect. She hadn't been handled much in the past few years, so she was enrolled for the 2020 Fall Bluebonnet Rescue Horse Training Challenge.
Maple will be competing under saddle in the Professional division of the Bluebonnet Rescue Horse Training Challenge with trainer Courtney Foust. She will be available for adoption at the Challenge during the Bluebonnet Horse Expo on October 17, 2020 in Taylor, Texas.
You can follow their progress on their Facebook page.
Evaluation and Training
Maple is a friendly mare but appears to not have been handled much in a long time when she arrived. Her Training Challenge trainer is currently working on ground work and gaining her trust.
| | |
| --- | --- |
| Trailers: Yes | Bucks: No |
| Leads: Yes | Bites: No |
| Ties: Unknown | Catches: Learning |
| Trims: Yes | Bathes: Unknown |
| Clips: Unknown | Rears: No |
| Kicks: No | |