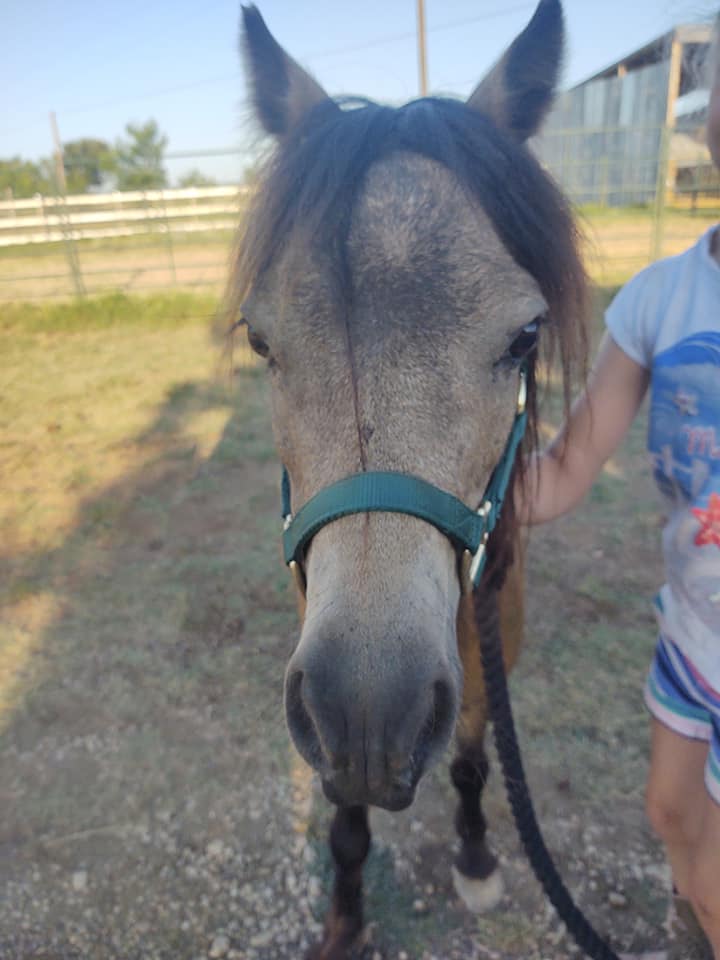 | | |
| --- | --- |
| Name: Blu | Status: Bluebonnet Rescue Horse Training Challenge |
| Adoption Fee: $600 | Arrived At Rescue: January 4, 2020 |
| Location: Georgetown, TX | Adoption Date: |
| Registered: | Breed: Miniature Horse |
| Date of Birth: January 1, 2015 | Color: Buckskin |
| Gender: Gelding | Height: 9.2 |
Blu's owner passed away and the family was not able to care for him and his herd mates so they were surrendered to BEHS.
Blu will be competing under saddle in the Non-Pro Under In Hand division of the Bluebonnet Rescue Horse Training Challenge with youth handler Beverly Kurkowski. He will be available for adoption at the Challenge during the Bluebonnet Horse Expo on October 17, 2020 in Taylor, Texas.
You can follow their progress on their Facebook page.
Evaluation and Training
When Blu arrived at Bluebonnet, her had not been handled much and was still a stallion. He was gelded and given time to settle in. Then his foster home and her young daughter began working with him. He's learning to lead and load, but he's still a handful right now.
They'll be preparing for the Training Challenge together, so he'll perfect his ground work skills and learn to navigate obstacles in hand. He's a cute guy and would be adorable if trained to drive, or he would be a cute pet and companion for al ucky adopter.
| | |
| --- | --- |
| Trailers: Yes | Bucks: No |
| Leads: Yes | Bites: No |
| Ties: Unknown | Catches: Unknown |
| Trims: Yes | Bathes: No |
| Clips: Unknown | Rears: No |
| Kicks: He has kicked his handler once while longing. | |