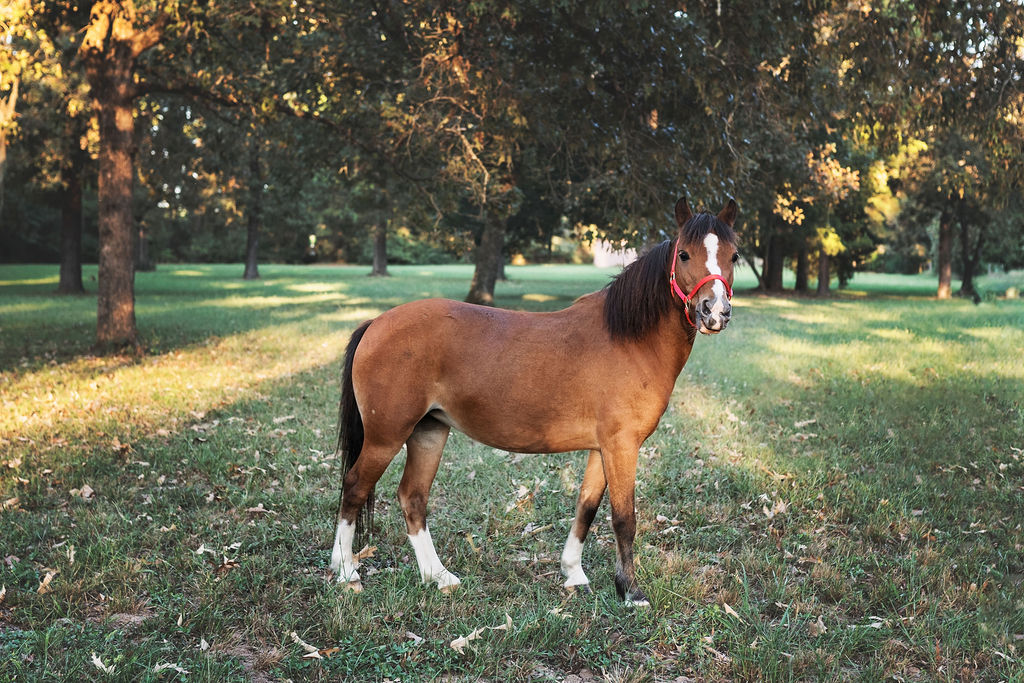 | | |
| --- | --- |
| Name: Leila | Status: Adopted |
| Adoption Fee: | Arrived At Rescue: January 4, 2020 |
| Location: San Antonio, TX | Adoption Date: December 15, 2020 |
| Registered: No | Breed: Miniature Horse |
| Date of Birth: January 1, 2017 | Color: Bay |
| Gender: Mare | Height: 11 |
Leila's owner passed away and the family was not able to care for her and her herd mates so they were surrendered to BEHS.
Leila is sound and ready for training in any discipline. The possibilities for this little mare are endless.
Evaluation and Training
Leila is sweet, but it appears she didn't have a lot of handling before coming to Bluebonnet. She has made great strides since she came to Bluebonnet. Her first foster family spent time getting her used to being handled. She can now be haltered, led, tied, trimmed, lunged, caught and trailered, but it is still with care and consideration.
Leila has also been saddled but is not broke to ride. She is extremely athletic and a beautiful mover. She is still very green in every way, but easy to handle and work with. The biggest challenge is she does not trust easily and that causes her to be flighty at times. She is extremely herd bound and always wants to be near another horse. Due to these issues , she is not recommended for a child to handle alone.
Leila is young and seems to be willing and eager to learn, but just needing more handling. She should continue to improve with consistent handling. She needs someone to work with her on ground manners, leading, etc. She is going to make someone a cute pet or companion if they are willing to put time into her training. She's also plenty young enough to be trained to drive by her adopter!
| | |
| --- | --- |
| Trailers: Yes | Bucks: No |
| Leads: Yes | Bites: No |
| Ties: Yes | Catches: Yes |
| Trims: Yes | Bathes: Yes |
| Clips: Unknown | Rears: No |
| Kicks: No | |