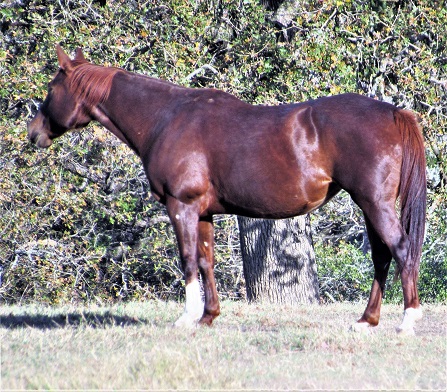 | | |
| --- | --- |
| Name: Reina | Status: Bluebonnet Rescue Horse Training Challenge |
| Adoption Fee: Not currently available. | Arrived At Rescue: January 17, 2020 |
| Location: Weatherford, TX | Adoption Date: |
| Registered: None | Breed: Grade |
| Date of Birth: January 1, 2009 | Color: Bay |
| Gender: Mare | Height: |
Reina came from a neglect case and was pregnant when she arrived. She had a healthy foal, Nacho, in 2020.
Reina is a big, beautiful mare who is a flashy and graceful mover! She was thin upon arrival, despite being eight months pregnant. An easy keeper, Reina quickly gained weight before foaling.
Reina has been in a mixed herd of mares and geldings, plus she has shared a pasture with cattle, emus, and deer. She seems to get along fine with everyone.
Evaluation and Training
Reina was reported to have been used as a roping horse. She has not been evaluated for riding capabilities yet, but is a good candidate for the upcoming training challenge.
Basically, this mare is respectful and has good ground manners. She can be caught and haltered, preferably with a treat when in a large field. Reina leads, loads in trailers, and ties easily. Her only fault to date is trimming her hooves. She is very protective of her hind feet, kicking out at farriers.
| | |
| --- | --- |
| Trailers: Yes | Bucks: No |
| Leads: Yes | Bites: No |
| Ties: Yes | Catches: Yes |
| Trims: Needs work | Bathes: Unknown |
| Clips: Unknown | Rears: No |
| Kicks: Only when hind feet are trimmed | |