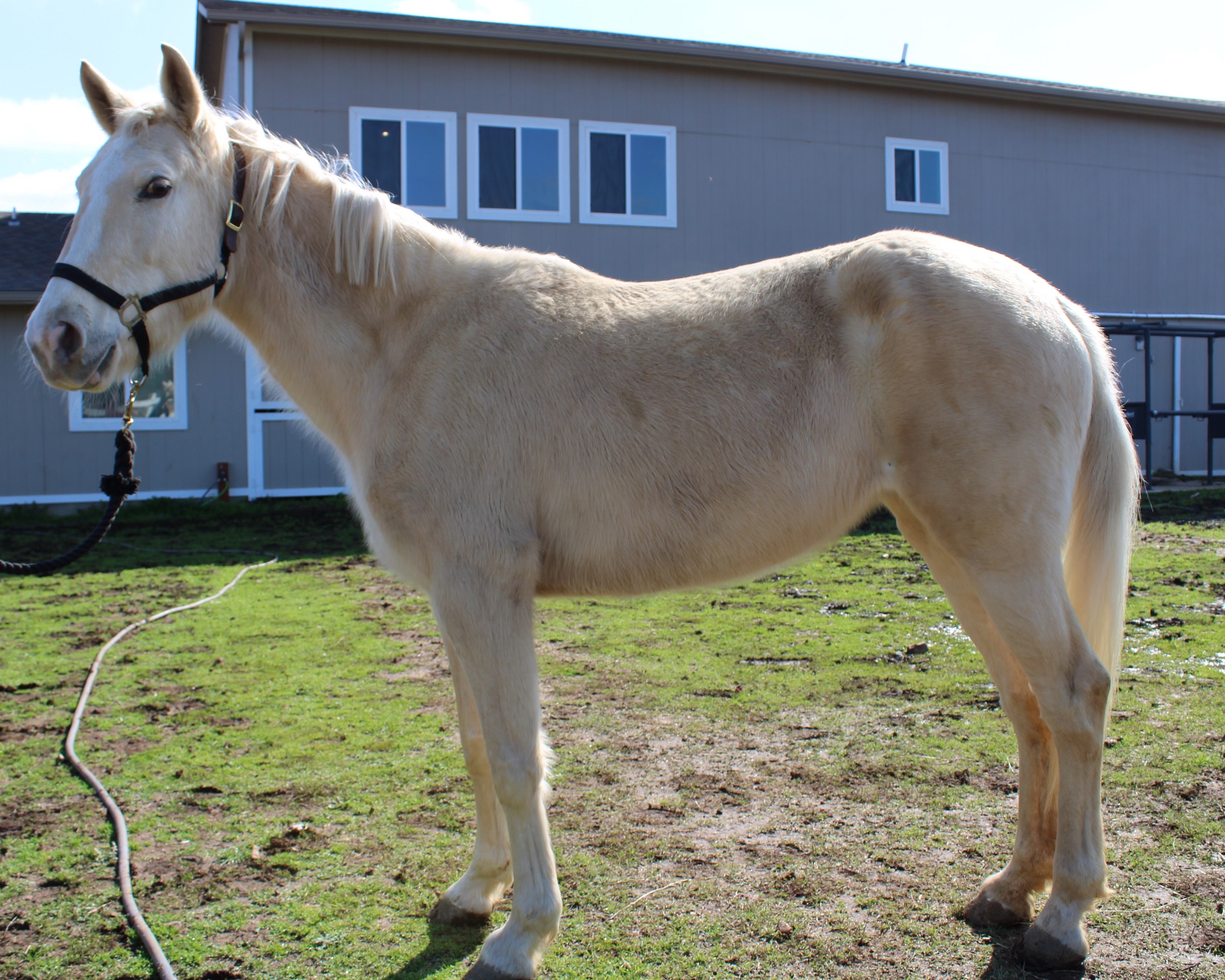 | | |
| --- | --- |
| Name: Daffodil | Status: Bluebonnet Rescue Horse Training Challenge |
| Adoption Fee: $600 | Arrived At Rescue: January 1, 2020 |
| Location: Liberty Hill, TX | Adoption Date: |
| Registered: | Breed: Grade Gaited Horse |
| Date of Birth: January 1, 2017 | Color: Palomino |
| Gender: Mare | Height: 13 |
Daffodil came to Bluebonnet when her donor could no longer keep her. Her donor said they believe she is a Missouri Foxtrotter but her first foster home and foster home's vet think she may be a Paso Fino cross.
Daffodil will be competing under saddle in the Non-Pro In Hand division of the Bluebonnet Rescue Horse Training Challenge with youth Concetta Shackett. She will be available for adoption at the Challenge during the Bluebonnet Horse Expo on October 17, 2020 in Taylor, Texas.
You can follow their progress on their .
Evaluation and Training
Daffodil leads, loads, and stands for grooming. She is not broke to ride yet and because she's a very light framed horse we would like her adopter to not start her under saddle until next year (2021) – although she is the perfect age to begin ground work be introduced to a saddle without a rider, etc. now.
She's enrolled in the Fall 2020 Bluebonnet Rescue Horse Training Challenge with a youth handler. They'll be working on ground work, manners, and learning to navigate obstacles in hand. This will give her a great foundation for her adopter!
| | |
| --- | --- |
| Trailers: Yes | Bucks: No |
| Leads: Yes | Bites: No |
| Ties: Yes | Catches: Unknown |
| Trims: Yes | Bathes: Unknown |
| Clips: Unknown | Rears: No |
| Kicks: No | |