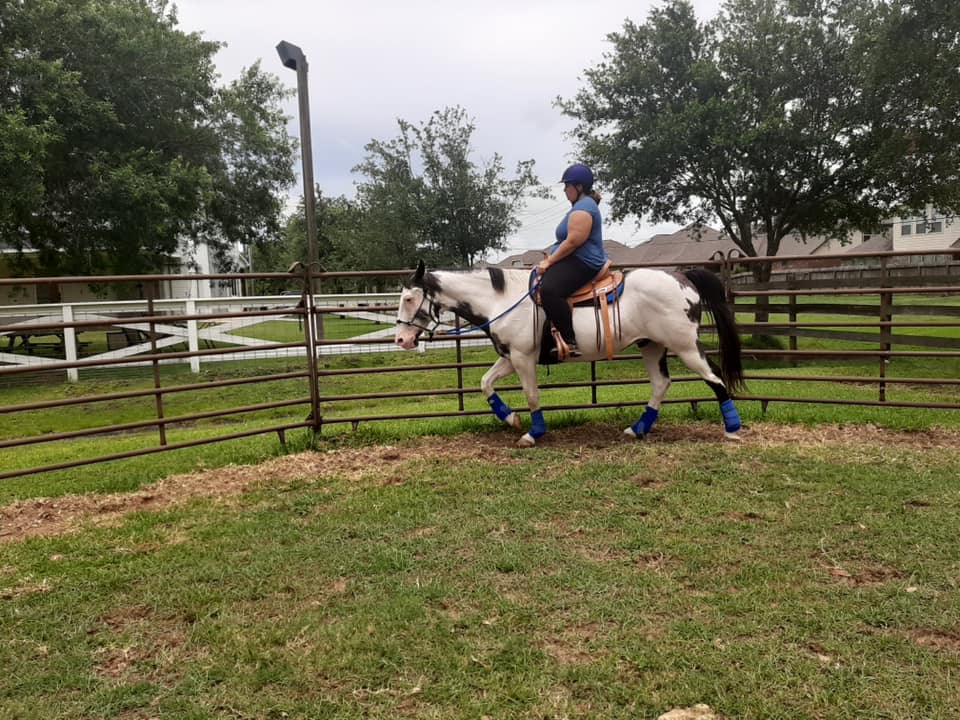 BEHS 1123 – Bobby Two Tone
| | |
| --- | --- |
| Name: Bobby Two Tone | Status: Bluebonnet Rescue Horse Training Challenge |
| Adoption Fee: $1500 | Arrived At Rescue: January 22, 2020 |
| Location: Friendswood, TX | Adoption Date: |
| Registered: No | Breed: Paint |
| Date of Birth: January 1, 2006 | Color: Pinto |
| Gender: Gelding | Height: |
Bobby Two Tone came to Bluebonnet when his owner could no longer keep him. She told us that her son rode him and roped off of him. We can't confirm that he's done roping in the past, but he definitely has been ridden before.
Bobby Two Tone's first foster home said he was a curious, friendly guy who got into everything! He did not get along well with her dominant gelding, but he did well with her donkeys and is doing well with horses at his new foster home.
Bobby Two Tone will be competing under saddle in the Non-Pro Under Saddle division of the Bluebonnet Rescue Horse Training Challenge with Jordan Rondot. He will be available for adoption at the Challenge during the Bluebonnet Horse Expo on October 17, 2020 in Taylor, Texas.
You can follow their progress on their Facebook page.
Evaluation and Training
Bobby Two Tone and his Challenge trainer have been working under saddle since mid June 2020. He was clearly ridden in the past and has been a nice riding horse so far. Before the Challenge, they'll be working over manmade obstacles and riding at all three gaits.
| | |
| --- | --- |
| Trailers: Yes | Bucks: No |
| Leads: Yes | Bites: No |
| Ties: Yes | Catches: Yes |
| Trims: Yes | Bathes: Unknown |
| Clips: Unknown | Rears: No |
| Kicks: No | |
Pictures of Bobby Two Tone