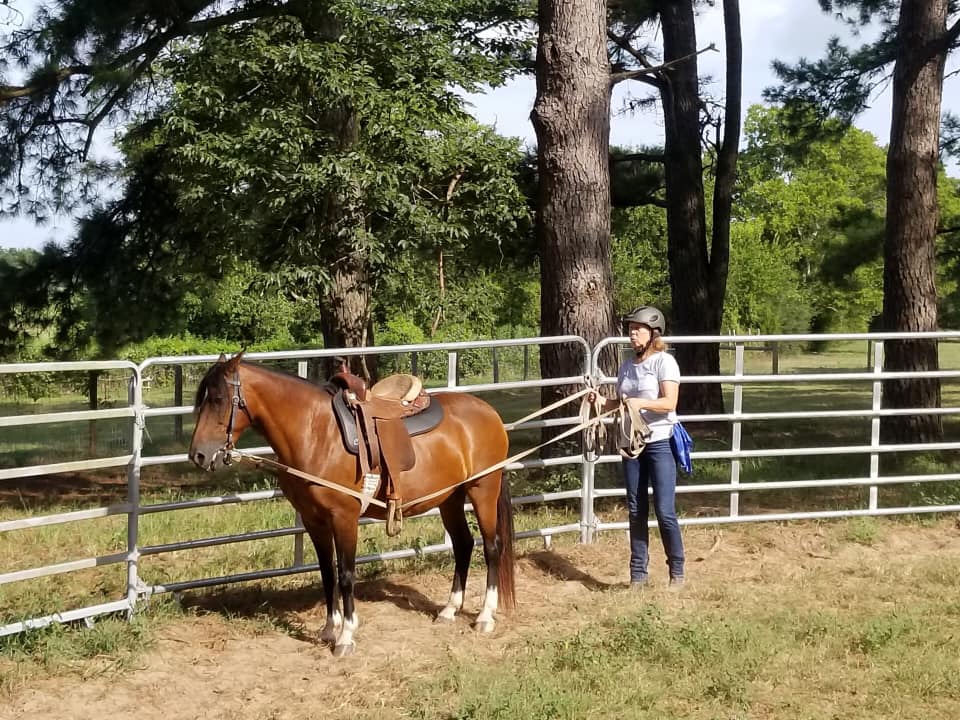 | | |
| --- | --- |
| Name: Athena | Status: Adopted |
| Adoption Fee: | Arrived At Rescue: April 20, 2020 |
| Location: Bellville, TX | Adoption Date: November 10, 2020 |
| Registered: No | Breed: Paso Fino |
| Date of Birth: January 1, 2008 | Color: Bay |
| Gender: Mare | Height: 13.3 |
Athena was rescued from a "kill pen" by her previous owner. She had a foal not long after being rescued. After her foal was weaned, her former owner sent her to training. She placed her with Bluebonnet when she was moving.
Evaluation and Training
Athena's former owner sent her to a trainer before she placed her with Bluebonnet. The trainer worked with her on the ground, taught her to navigate trail obstacles in hand, and started her under saddle. She was very green when she came to us,
Athena went to a non pro to be ridden and prepared for the fall 2020 Bluebonnet Rescue Horse Training Challenge. Her trainer describes her as a tense little mare, so they have worked on getting her to relax while building on her previous training. She does everything she is asked; stands quietly, leads at a walk and trot, backs, and lunges at a walk and trot responsively. She handles obstacles quietly.
Athena still needs work on allowing her feet to be handled, but is coming along. She is also still learning to load and has done some ground driving. Athena is willing, but still needs work on these areas. She has been ridden a little in the round pen and it is clear that she has had little to no previous saddle training. She will buck under saddle when getting started so she needs more work to get her past that.
Overall she can do whatever anyone needs, but will need calm, quiet and deliberate handling. She will need additional training under saddle. She is not for a beginner.
| | |
| --- | --- |
| Trailers: Yes | Bucks: Yes |
| Leads: Yes | Bites: No |
| Ties: Yes | Catches: Yes |
| Trims: Yes | Bathes: Unknown |
| Clips: Unknown | Rears: No |
| Kicks: No | |