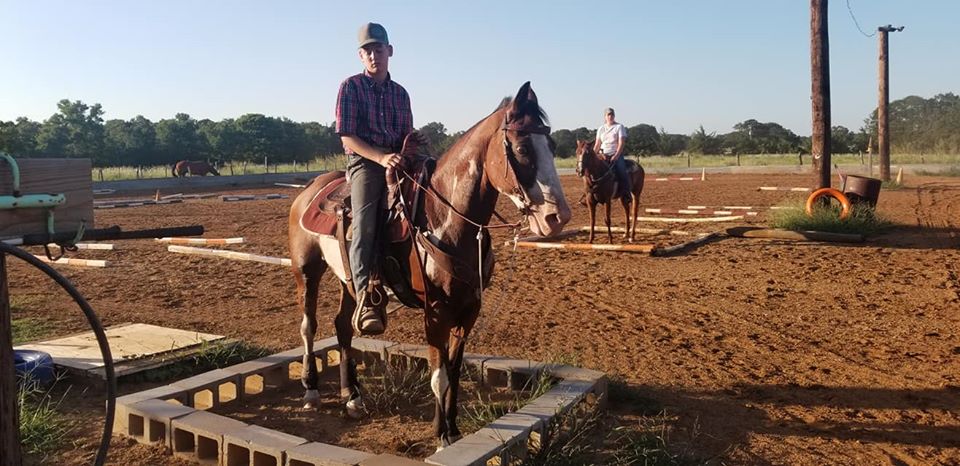 Name: Zorro
Status: Adopted

Adoption Fee:
Arrived At Rescue: May 10, 2020
Location: Caldwell, TX
Adoption Date: September 28, 2020
Registered: None
Breed: Paint

Date of Birth: January 1, 2003
Color: Bay
Pinto

Gender: Gelding

Height:
Zorro was placed with Bluebonnet when his owner could no longer care for him.
Zorro will be competing in the Non-Pro Under Saddle division of the Bluebonnet Rescue Horse Training Challenge with youth Wyatt Lesikar. He will be available for adoption at the Challenge during the Bluebonnet Horse Expo on October 17, 2020 in Taylor, Texas.
You can follow their progress on their Facebook page.
Evaluation and Training
Zorro was broke to ride before coming to Bluebonnet, but he hadn't been ridden in several years. He was evaluated by a trainer in July 2020 for Bluebonnet and then assigned for the Bluebonnet Rescue Horse Training Challenge. He's being ridden by a youth rider for the Challenge and is doing well. They've been riding in an arena and over trail obstacles, and he's going to make someone a great riding horse.
| | |
| --- | --- |
| Trailers: Yes | Bucks: No |
| Leads: Yes | Bites: No |
| Ties: Yes | Catches: Yes |
| Trims: Yes | Bathes: Unknown |
| Clips: Unknown | Rears: No |
| Kicks: No | |