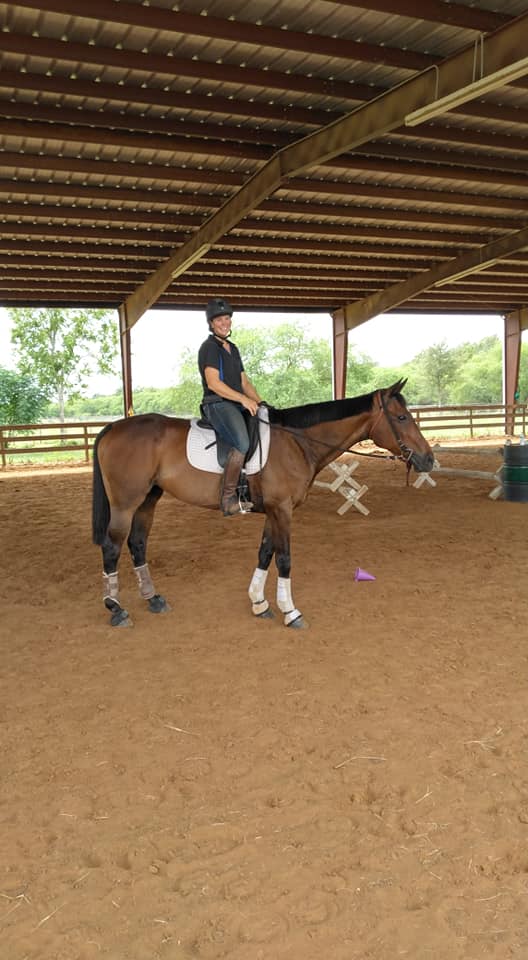 Name: Parker
Status: Adopted
Bluebonnet Rescue Horse Training Challenge

Adoption Fee:
Arrived At Rescue: May 12, 2020
Location: Sealy, TX
Adoption Date: October 6, 2020
Registered:
Breed: Thoroughbred

Date of Birth: October 23, 2020
Color: Bay

Gender: Gelding

Height:
Parker was surrendered to Bluebonnet when his owner couldn't care for him. He was a racehorse in his younger days and then kept on pasture for many years.
He does have some arthritic changes in his stifle and an old tendon injury to his right hind pastern. At this time it does not require any specific attention. He is on Buteless supplement but he may benefit from something more joint specific. He is barefoot and has come along way with picking up his feet and working with the farrier.
Parker eats A LOT of feed and has bad teeth so will need someone willing to make sure he receives adequate nutrition to maintain his condition.
Parker will be competing under saddle in the Professional division of the Bluebonnet Rescue Horse Training Challenge with trainer Lynn Adimari. He will be available for adoption at the Challenge during the Bluebonnet Horse Expo on October 17, 2020 in Taylor, Texas.
You can follow their progress on their Facebook page.
Parker's challenge trainer says he is a pleasure to work with and is a puppy dog most of the time. He loves baths and drinks out of the hose. He will stand in the cross ties all day, loves the curry comb, hates his mail pulled, is ok with the clippers but needs more work on them to be perfect. Parker enjoys being the center of attention and affection; grooming, carrots and cuddles.
Evaluation and Training
Parker and his trainer has been working in both English and western tack - and he's good with both! They've mostly been working in an arena so far, but she's also introducing him to trail obstacles and he's doing well. As he's getting more fit and healthier, he's becoming more energetic! He's probably not going to be a horse for a beginner/novice or a timid rider, but he ought to be fun for someone with a bit of experience.
Parker would do best with a one-on-one owner situation with a Dressage focus. He is also good on trails but not super brave. He will lead or fallow and is not "buddy sour". He is a big horse (17 hands) that is aware of his size so we do not recommend him as a kid's horse but a teenager or adult would be good. He would do best with someone with some horse knowledge or someone working with a trainer.
He is coming along in dressage and Western dressage bit has absolutely no interest in jumping at all.
| | |
| --- | --- |
| Trailers: Yes | Bucks: No |
| Leads: Yes | Bites: No |
| Ties: Yes | Catches: Yes |
| Trims: Yes | Bathes: Yes |
| Clips: Unknown | Rears: No |
| Kicks: No | |