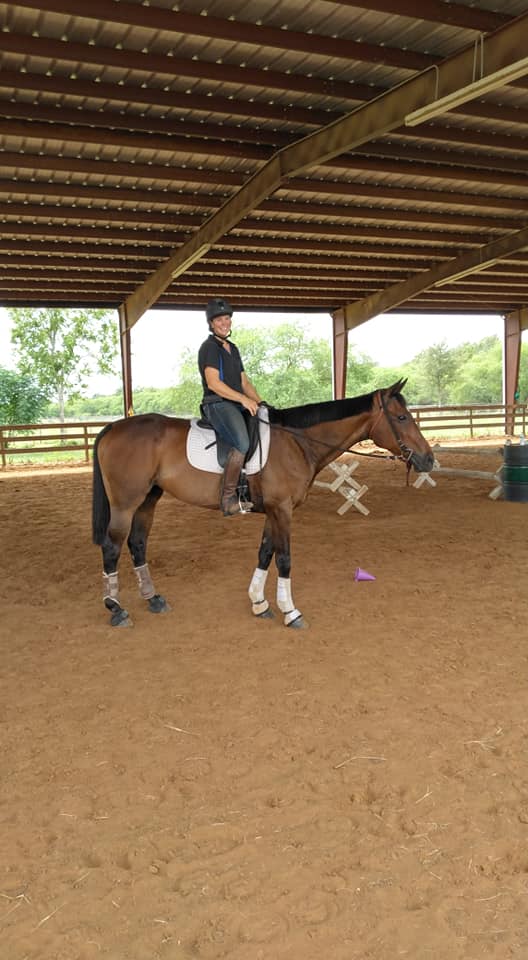 | | |
| --- | --- |
| Name: Parker | Status: Bluebonnet Rescue Horse Training Challenge |
| Adoption Fee: $1800 | Arrived At Rescue: May 12, 2020 |
| Location: Sealy, TX | Adoption Date: |
| Registered: | Breed: Thoroughbred |
| Date of Birth: August 15, 2020 | Color: Bay |
| Gender: Gelding | Height: |
Parker was surrendered to Bluebonnet when his owner couldn't care for him. He was a racehorse in his younger days and then kept on pasture for many years.
Parker will be competing under saddle in the Professional division of the Bluebonnet Rescue Horse Training Challenge with trainer Lynn Adimari. He will be available for adoption at the Challenge during the Bluebonnet Horse Expo on October 17, 2020 in Taylor, Texas.
You can follow their progress on their Facebook page.
Evaluation and Training
Parker and his trainer has been working in both English and western tack - and he's good with both! They've mostly been working in an arena so far, but she's also introducing him to trail obstacles and he's doing well. As he's getting more fit and healthier, he's becoming more energetic! He's probably not going to be a horse for a beginner/novice or a timid rider, but he ought to be fun for someone with a bit of experience.
| | |
| --- | --- |
| Trailers: Yes | Bucks: No |
| Leads: Yes | Bites: No |
| Ties: Yes | Catches: Yes |
| Trims: Yes | Bathes: Yes |
| Clips: Unknown | Rears: No |
| Kicks: No | |