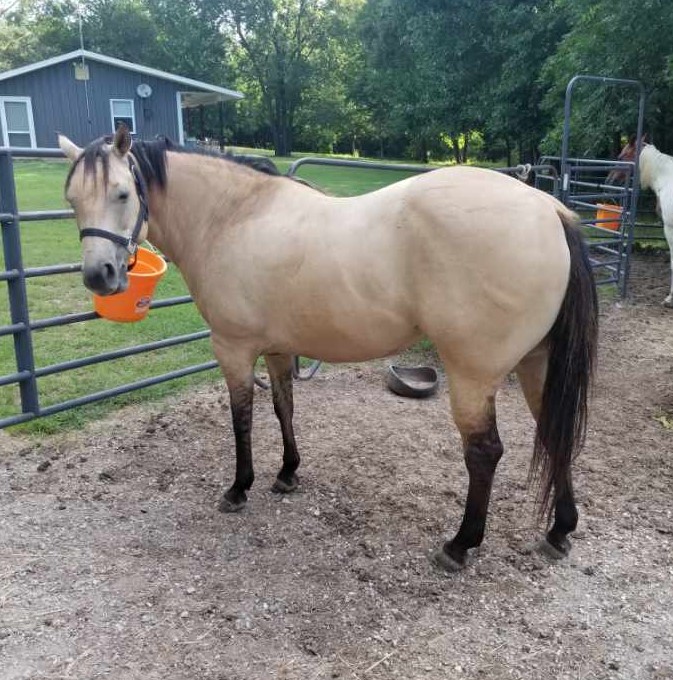 BEHS 1139 – Whiskey Willow
Name: Whiskey Willow
Status: Adopted
Bluebonnet Rescue Horse Training Challenge

Adoption Fee:
Arrived At Rescue: July 18, 2020
Location: Marietta, OK
Adoption Date: August 8, 2020
Registered: None
Breed: Grade
Quarter Horse

Date of Birth: January 1, 2009
Color: Buckskin

Gender: Mare

Height: 15
Whiskey Willow came to Bluebonnet due to her owner's health.
Whiskey Willow hadn't been handled much when she came to Bluebonnet. She had spent the previous ten years mostly as a wild horse. She was curious and unafraid from a distance but very leery of new people and not trusting. She was enrolled in the 2020 Bluebonnet Rescue Horse Training Challenge and was adopted by her trainer.
She will be competing in the Non-Pro In Hand division of the Bluebonnet Rescue Horse Training Challenge with Amy Limke.
You can follow their progress on their Facebook page.
Evaluation and Training
Whiskey Willow appears to have been handled in the distant past but she has basically been a wild horse for the past decade so she is very rusty with even basic ground manners. She is very difficult to catch but does try to please her handler once she is haltered.
She will make some one an fun project horse.
| | |
| --- | --- |
| Trailers: Yes | Bucks: Unknown |
| Leads: Yes | Bites: No |
| Ties: Yes | Catches: Learning |
| Trims: Yes | Bathes: Unknown |
| Clips: Unknown | Rears: No |
| Kicks: No | |
Pictures of Whiskey Willow