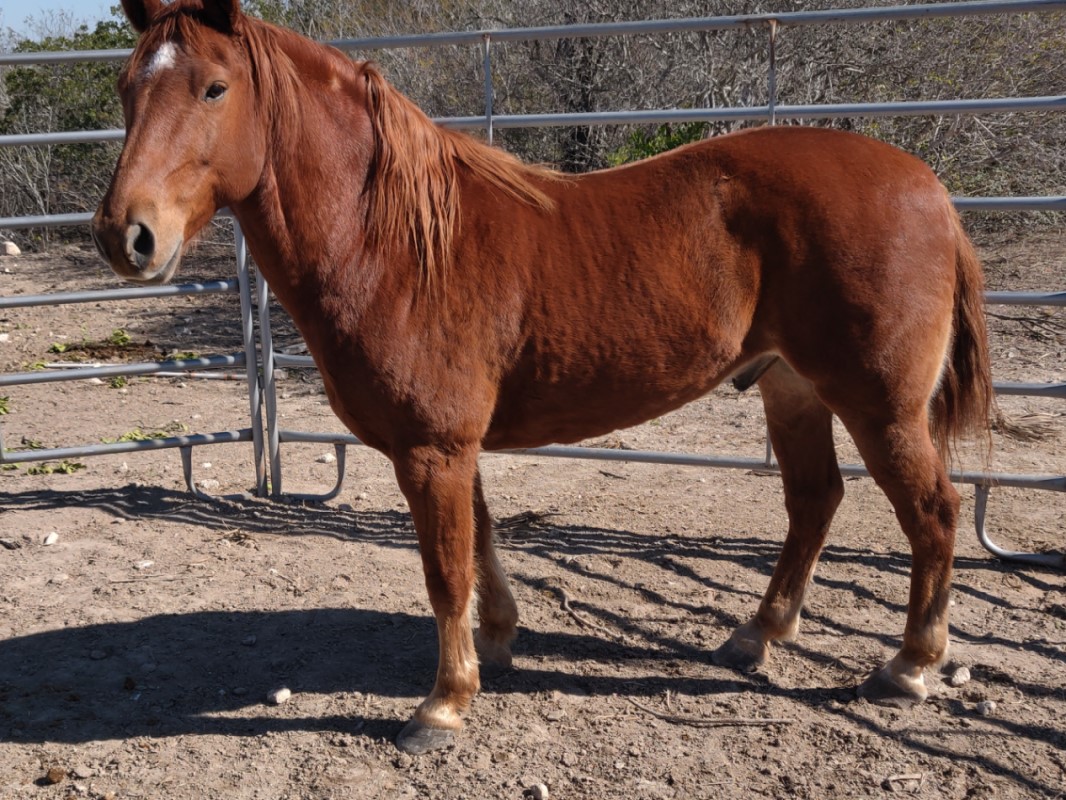 Name: Shiner
Status: Bluebonnet Rescue Horse Training Challenge
Newly Arrived

Adoption Fee: $2,000
Arrived At Rescue: January 3, 2021
Location: Castroville, TX
Adoption Date:
Registered: No
Breed: Mustang

Date of Birth: January 1, 2011
Color: Chestnut / Sorrel

Gender: Gelding

Height: 14.2
Shiner was surrendered to Bluebonnet when his owner wasn't able to care for him due to her health. Shiner is curious, affectionate, and extremely smart. When he wants attention, he will nibble you with his lips and start licking you if you don't respond in kind. Once you win his trust, he will allow you to do almost anything.
Evaluation and Training
Shiner had little if any handling or training prior to coming to Bluebonnet. Shiner is going through a rigorous 4 months of training at SpiritHorse
Horsemanship School under the care and training of Jeremiah Bowen. This handsome gelding will be competing in the Professional division of the 2021 Spring BEHS Rescue Horse Training Challenge with his trainer. You can follow their progress on their Facebook page by *CLICKING HERE*. Challenge horses will be available for adoption starting on May 15, 2021 at the Circle T Arena in Hamilton, TX during the competition.
With training, we expect Shiner to make someone a great all-around horse for hunt seat jumping, cattle work, roping, trail courses, playdays, reining, or anything you might want to try with him. He is a blank slate!
| | |
| --- | --- |
| Trailers: | Bucks: |
| Leads: | Bites: |
| Ties: | Catches: |
| Trims: | Bathes: |
| Clips: | Rears: |
| Kicks: | |