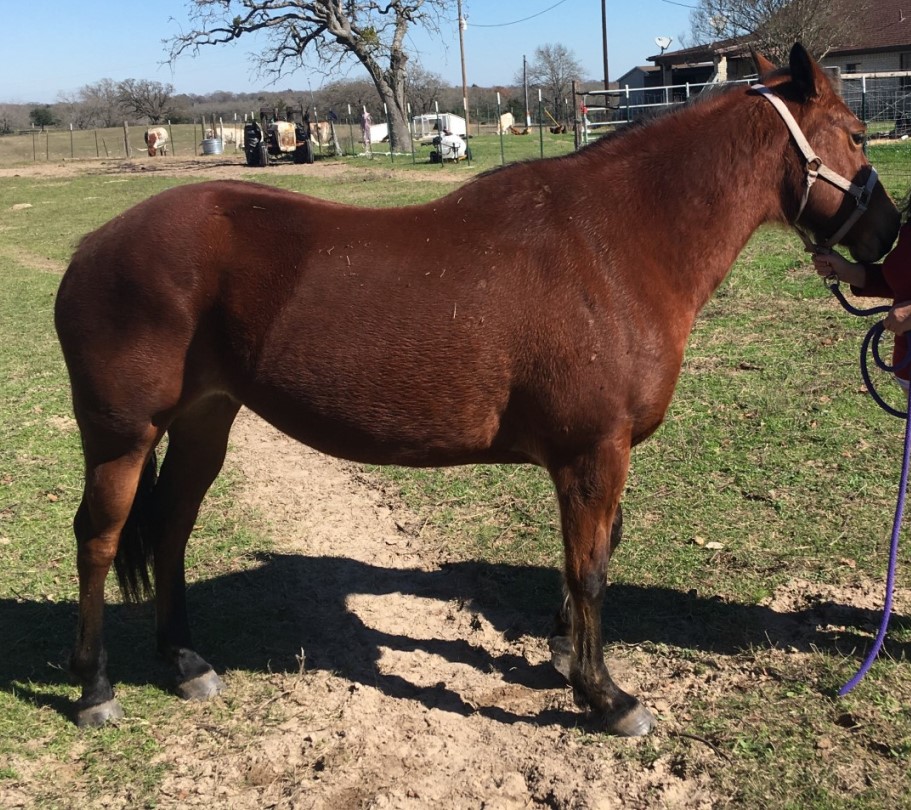 | | |
| --- | --- |
| Name: Ja Bon | Status: Bluebonnet Rescue Horse Training Challenge |
| Adoption Fee: $1,500 | Arrived At Rescue: July 27, 2009 |
| Location: Allen, TX | Adoption Date: |
| Registered: | Breed: Grade |
| Date of Birth: January 1, 2008 | Color: Bay |
| Gender: Mare | Height: 15.1 |
Jabon came to BEHS in 2009 in very bad shape. She was part of a seizure of 17 horses, and her head was deformed. Her face looks "crooked" and her vet feels she may have been kicked or stepped on as a foal. Her crooked face gives her a cute look, but it means her teeth need regular attention to insure she can eat her food. She was fostered for a year, and one day her foster "mom" decided she hated the idea of letting Jabon go and adopted her in 2010. She returned her in 2018. She spent a little time with trainer Hilary LoBue for a training tune up, and she was quickly readopted by a Bluebonnet foster home. She was returned in November 2020, when her adopters were no longer able to ride and needed to reduce their herd.
Ja Bon will be competing in the Non Pro Under Saddle division of the 2021 Spring BEHS Rescue Horse Training Challenge with trainer Madeline Bata. You can follow their progress on their Facebook page by *CLICKING HERE*. Challenge horses will be available for adoption starting on May 15, 2021 at the Circle T Arena in Hamilton, TX during the competition.
Evaluation and Training
Ja Bon went to trainer Hilary LoBue for a training assessment and evaluation in late October 2018. Due to her previous injury, she cannot be ridden in a bit, but she has a great stop when ridden. She will be best suited for pleasure, trails or obstacle work. She prefers to go slow. She is a very responsive horse and has such a great disposition. No buck, rear or bolt. She is a pleasure to be around.
Ja Bon hasn't been ridden recently but she is a nice mare that has retained her training well in the past. With a minor tune-up she should be ready to hit the trails again!
| | |
| --- | --- |
| Trailers: Yes | Bucks: No |
| Leads: Yes | Bites: No |
| Ties: Yes | Catches: Yes |
| Trims: Yes | Bathes: Unknown |
| Clips: Unknown | Rears: No |
| Kicks: No | |