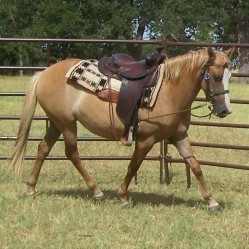 Name: Dulce
Status: In Rehabilitation

Adoption Fee: Not yet available
Arrived At Rescue: October 23, 2010
Location: Elgin, TX
Adoption Date:
Registered:
Breed: Grade

Date of Birth: January 1, 2006
Color: Dun
Red Dun

Gender: Mare

Height: 13.1
Dulce was seized by law enforcement and awarded to BEHS. Dulce quickly recovered from her negligent past and turned out to be a sweet, gentle horse. Splish Splash, Dulce, and Mika were all adopted by the Whitaker family! These girls all came to BEHS a few years ago from separate neglect cases. They were adopted previously but recently returned. The Whitaker family offered to foster them, but they quickly decided to go ahead and give the girls a home! Thank you and happy trails!
Evaluation and Training
Dulce means "sweet" in Spanish, and this trusting mare lives up to her name . She is an all-around nice horse - easy to catch, lead, tie, de-worm, and trailer. The farrier who trimmed her hooves remarked how well she stood for him. After Dulce was longed and ground-driven with a saddle, she was evaluated for riding ability. Although it was evident she hasn't had training under saddle, she was quiet and well-behaved. This beautiful mare is at a good age to start under saddle and, being eager to please, is very trainable.
| | |
| --- | --- |
| Trailers: Yes | Bucks: No |
| Leads: Yes | Bites: No |
| Ties: Yes | Catches: Yes |
| Trims: Yes | Bathes: Unknown |
| Clips: Unknown | Rears: No |
| Kicks: No | |