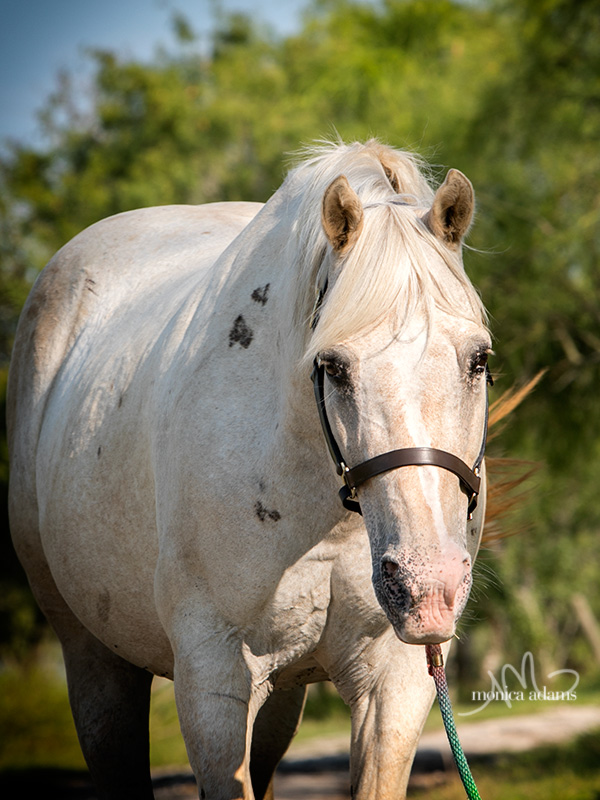 Name: Pilgrim
Status: Bluebonnet Rescue Horse Training Challenge

Adoption Fee: $1,500
Arrived At Rescue: November 27, 2012
Location: Austin, TX
Adoption Date:
Registered:
Breed: Appaloosa
Grade
Quarter Horse

Date of Birth: January 1, 2000
Color: Appaloosa
Buckskin

Gender: Gelding

Height: 15
Pilgrim came to BEHS in November of 2012. He was estray and his owners were not located. He was in such rough shape, but he gained weight, and grew into a gorgeous, kind, and quiet horse.
When Pilgrim came to Bluebonnet, his penis was swollen and injured. He had surgery at Texas A&M to amputate his penis and move his urethra. He now urinates from beneath his tail like a mare. He occasionally needs his tail washed because he does not always move it out of the way. Even though this surgery made Pilgrim a bit unusual, it does not affect his health or rideability at all.
After Pilgrim recovered, he waited patiently for his own person, and was adopted to become part of a riding camp. Unfortunately, he was returned when he did not work out in a camp environment. He entered the 2014 Bluebonnet Rescue Horse Training Challenge in the "Needs Additional Training" division and did well. He was adopted twice after that but had to be returned due to the adopters' health problems both times.
Pilgrim will be competing in the Non Pro Under Saddle division of the 2021 Spring BEHS Rescue Horse Training Challenge with trainer Kate Herrick. You can follow their progress on their Facebook page by *CLICKING HERE*. Challenge horses will be available for adoption starting on May 15, 2021 at the Circle T Arena in Hamilton, TX during the competition.
Evaluation and Training
Pilgrim can be a bit pushy on the ground, but he does well with consistent handling. He knows how to lead, load, and is easy to catch. He knows how to longe and carry a saddle, and he's been ridden by a foster home. Because he has lost several teeth, he must be ridden in a rope halter, hackamore, or other bitless bridle. It is clear he was broke to ride before coming to BEHS, and he's now adjust to being ridden without a bit.
A previous foster home who rode him said he was a bit lazy under saddle but quiet and nice to ride around the property. We have learned, though, that Pilgrim will take advantage of a timid or novice rider and has bucked under saddle with less confident riders. He's recently been evaluated by Jodi Brassard who is a trainer and also does acupressure. She identified some sore areas and treated him, and he's doing much better under saddle. Since he hasn't been ridden in a long time, he's out of shape and would do well with an adopter who can do some ground and bring him back into work slowly. He should be a stunning trail and pleasure horse for the right adopter.
| | |
| --- | --- |
| Trailers: Yes | Bucks: Has bucked in the past but no issues with current trainer. |
| Leads: Yes | Bites: Yes |
| Ties: Yes | Catches: Yes |
| Trims: Yes | Bathes: Unknown |
| Clips: Unknown | Rears: No |
| Kicks: No | |