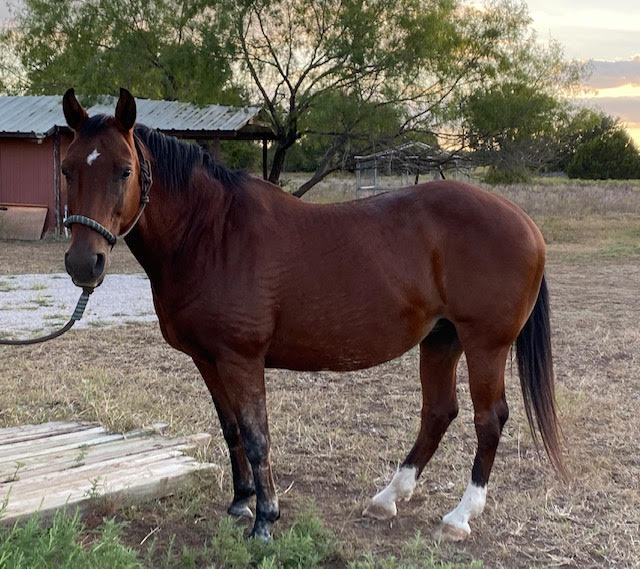 | | |
| --- | --- |
| Name: Reta's Bailey | Status: Bluebonnet Rescue Horse Training Challenge |
| Adoption Fee: $1,500 | Arrived At Rescue: January 12, 2019 |
| Location: Manor, TX | Adoption Date: |
| Registered: | Breed: Grade |
| Date of Birth: January 1, 2006 | Color: Bay |
| Gender: Mare | Height: |
Reta's Bailey was removed from negligent owners and placed with Bluebonnet. She was adopted right away as a companion/pet but returned when her adopters could no longer keep her.
Reta's Bailey will be competing in the Non Pro Under Saddle division of the 2021 Spring BEHS Rescue Horse Training Challenge with trainer Brittany Harley. You can follow their progress on their Facebook page by *CLICKING HERE*. Challenge horses will be available for adoption starting on May 15, 2021 at the Circle T Arena in Hamilton, TX during the competition.
Evaluation and Training
Reta's Bailey is easy to handle. She halters, leads, trailers and bathes with no issues. She has been around dogs and they don't bother her.
| | |
| --- | --- |
| Trailers: Yes | Bucks: Unknown |
| Leads: Yes | Bites: No |
| Ties: Yes | Catches: Yes |
| Trims: Yes | Bathes: Yes |
| Clips: Unknown | Rears: Unknown |
| Kicks: No | |
Pictures of Reta's Bailey