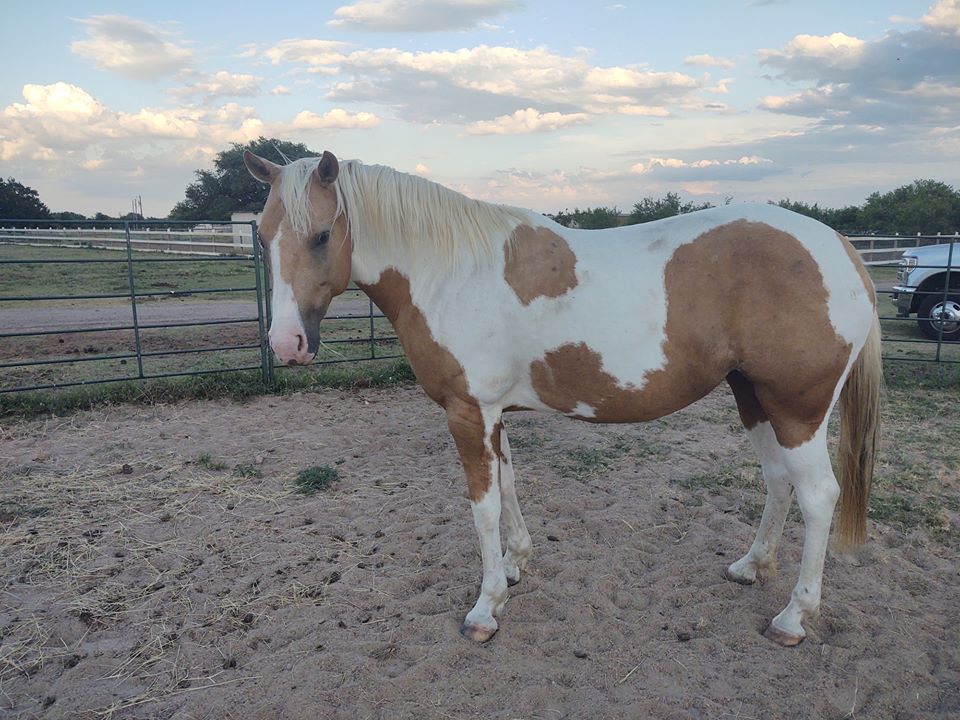 Name: Just Dazzling
Status: Bluebonnet Rescue Horse Training Challenge

Adoption Fee: $1500
Arrived At Rescue: October 25, 2015
Location: Hitchcock, TX
Adoption Date:
Registered: None
Breed: Grade
Paint

Date of Birth: January 1, 2013
Color: Palomino
Pinto

Gender: Mare

Height:
Dazzling came to Bluebonnet Equine Humane Society in 2015 as an estray. She had a badly damaged eye and was skittish. Her foster home worked to gain her trust, and then she went to a trainer to be started under saddle in preparation for the 2016 Bluebonnet Rescue Horse Training Challenge. She didn't get to compete at the Challenge, and she went home with a new foster home after the event. Not long after going to her new foster home, she met her adopter. Her adopter returned her in 2020 when she was moving out of state and couldn't take her.
Just Dazzling's right eye is badly damaged and she appears to have very little, if any, vision in that eye. She has been that way since she arrived, and so far her vet has advised against removing her eye.
Just Dazzling will be competing under saddle in the Non-Pro Under Saddle division of the Bluebonnet Rescue Horse Training Challenge with Petra Lisbony. She will be available for adoption at the Challenge during the Bluebonnet Horse Expo on October 17, 2020 in Taylor, Texas.
You can follow their progress on their Facebook page.
Evaluation and Training
Just Dazzling hasn't had the best handling before coming to BEHS. She was very nervous with new people when she arrived, but her foster home worked hard to gain her trust and show her that people are great.Just Dazzling spent four months with trainer Leroy Ramirez in 2016 to prepare to compete under saddle in the Bluebonnet Rescue Horse Training Challenge. He started her under saddle and rode her in an arena and over obstacles. Her adopter rode her quite a bit and said she was a nice riding horse.
| | |
| --- | --- |
| Trailers: Yes | Bucks: No |
| Leads: Yes | Bites: No |
| Ties: Yes | Catches: Yes |
| Trims: Yes | Bathes: Unknown |
| Clips: Unknown | Rears: No |
| Kicks: No | |
Pictures of Just Dazzling