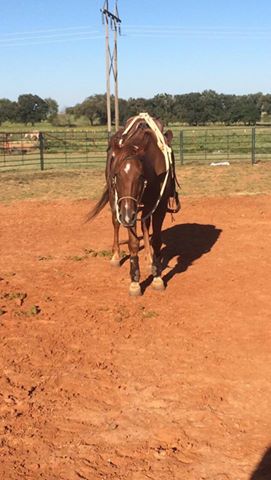 | | |
| --- | --- |
| Name: Troubadour | Status: Bluebonnet Rescue Horse Training Challenge |
| Adoption Fee: $1500 | Arrived At Rescue: August 10, 2016 |
| Location: Cypress, TX | Adoption Date: October 22, 2016 |
| Registered: No | Breed: Quarter Horse |
| Date of Birth: January 1, 2004 | Color: Chestnut / Sorrel |
| Gender: Gelding | Height: |
Troubadour was place with Bluebonnet when his owners could no longer keep him. Troubadour placed 5th in the professional division of the 2016 Bluebonnet Rescue Horse Training Challenge and was adopted at the event. He was returned in 2020 through no fault of his own.
Troubadour will be competing under saddle in the Non-Pro Under Saddle division of the Bluebonnet Rescue Horse Training Challenge with Kristi Shepherd. He will be available for adoption at the Challenge during the Bluebonnet Horse Expo on October 17, 2020 in Taylor, Texas.
You can follow their progress on their Facebook page.
Evaluation and Training
Troubadour spent 2 1/2 months with trainer Ashley Anderson to be started under saddle in 2016. Due to time off because of an abscess and a late start in the Challenge, she only rode Toubadour about two weeks before the competition but they still did well. Unfortunately, he was not ridden much while adopted and has regressed. His Training Challenge partner, Kristi, is bringing him back to work.
| | |
| --- | --- |
| Trailers: Yes | Bucks: No |
| Leads: Yes | Bites: No |
| Ties: Yes | Catches: Yes |
| Trims: Yes | Bathes: Yes |
| Clips: Unknown | Rears: No |
| Kicks: No | |