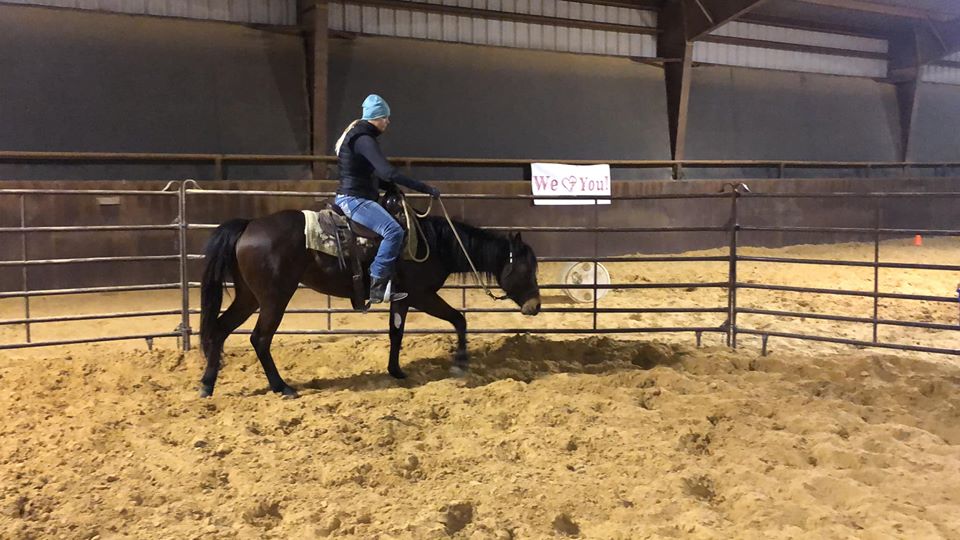 Name: Cassidy
Status: Adopted
Bluebonnet Rescue Horse Training Challenge

Adoption Fee:
Arrived At Rescue: August 12, 2016
Location: Quinland, TX
Adoption Date: October 9, 2020
Registered:
Breed: Grade

Date of Birth: January 1, 2015
Color: Bay

Gender: Mare

Height:
Cassidy was removed from negligent owners and then placed with Bluebonnet by the SPCA of Texas.
Cassidy attended the 2016 Bluebonnet Horse Expo and was adopted at the event. She was returned in 2019 when her adopter was going through a divorce.
Cassidy will be competing under saddle in the Professional division of the Bluebonnet Rescue Horse Training Challenge with trainer Riva England. She will be available for adoption at the Challenge during the Bluebonnet Horse Expo on October 17, 2020 in Taylor, Texas.
You can follow their progress on their Facebook page.
Evaluation and Training
Cassidy is halter broke and leads. She's not great at loading, but her foster home is working with her. She's a young mare who could be trained for anything - she's the perfect age to adopt and enjoy!
She's being started under saddle by trainer Riva England in 2020 and will make someone a wonderful riding partner!
| | |
| --- | --- |
| Trailers: Yes | Bucks: No |
| Leads: Yes | Bites: No |
| Ties: Unknown | Catches: Yes |
| Trims: Yes | Bathes: Unknown |
| Clips: Unknown | Rears: No |
| Kicks: No | |