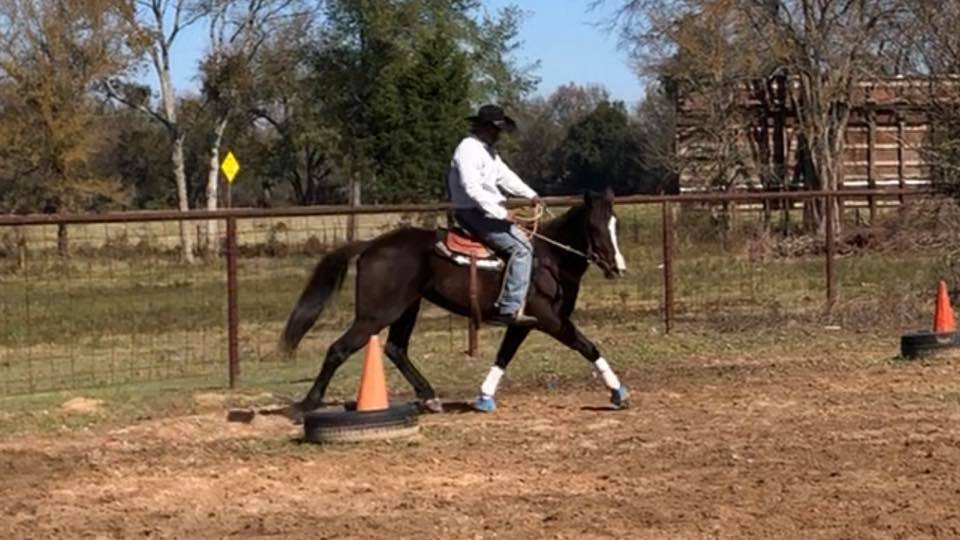 | | |
| --- | --- |
| Name: Miss Pembroke | Status: Bluebonnet Rescue Horse Training Challenge |
| Adoption Fee: $1500 | Arrived At Rescue: January 19, 2017 |
| Location: Georgetown, TX | Adoption Date: |
| Registered: No | Breed: Grade |
| Date of Birth: January 1, 2011 | Color: Bay |
| Gender: Mare | Height: |
Miss Pembroke and her herdmate, Miss Treasure, were discovered estray. When their owners were not found, law enforcement placed them with Bluebonnet.
Neither mare appeared to have been handled before coming to Bluebonnet, so they went to a trainer who got them halter trained. She attended the 2019 Bluebonnet HelpAHorse event and was adopted. Unfortunately, she was returned later that year when she did not work out. Her adopters said she kicked at them and their horses and bucked under saddle. When she was returned, she went to trainer Kristi Brieckler for an evaluation. She did not do well in a herd at first, but she settled down neither Kristi nor her current foster home have had similar problems with her.
Miss Pembroke will be competing under saddle in the Non-Pro Under Saddle division of the Bluebonnet Rescue Horse Training Challenge with Amber Kurkowski. She will be available for adoption at the Challenge during the Bluebonnet Horse Expo on October 17, 2020 in Taylor, Texas.
You can follow their progress on their Facebook page.
Evaluation and Training
Miss Pembroke's first Training Challenge trainer, Bernie Wilimitis, feels that she has likely had some negative experiences with people in the past. When she first got to him, she was nervous about everything and ready to explode. He worked hard to rebuild her trust in humans – and did a fabulous job. He started her under saddle and rode her on trails and in an arena.
Miss Pembroke's trainer says, "She is a good looking horse and she is smooth. Moves out nice at the walk, smooth rhythmic trot, and a rocking chair type canter. I can see her as an English/Dressage horse or trail horse. She has some natural carriage and break at the poll. In the pasture, she will show off her extended trot. On the trails, this is where she is most calm actually. She is curious and loves to lead the pack. Not afraid of much on the trails even when riding by herself."
She spent some time with trainer Darrell Gardner as well, and the two worked in an arena and over man-made obstacles. She was adopted as a ranch horse, but she did not work out and was returned. She's now with non-pro Amber Kurkowski who is focusing on riding her English. They've been working in an arena and taking short trail rides so far.
Miss Pembroke is not a horse for a novice/beginner rider, but she's going to be fantastic pleasure, trail, or even show horse for a lucky adopter!
| | |
| --- | --- |
| Trailers: Yes | Bucks: No |
| Leads: Yes | Bites: No |
| Ties: Yes | Catches: Yes |
| Trims: Yes | Bathes: Yes |
| Clips: Yes | Rears: No |
| Kicks: No | |
Pictures of Miss Pembroke