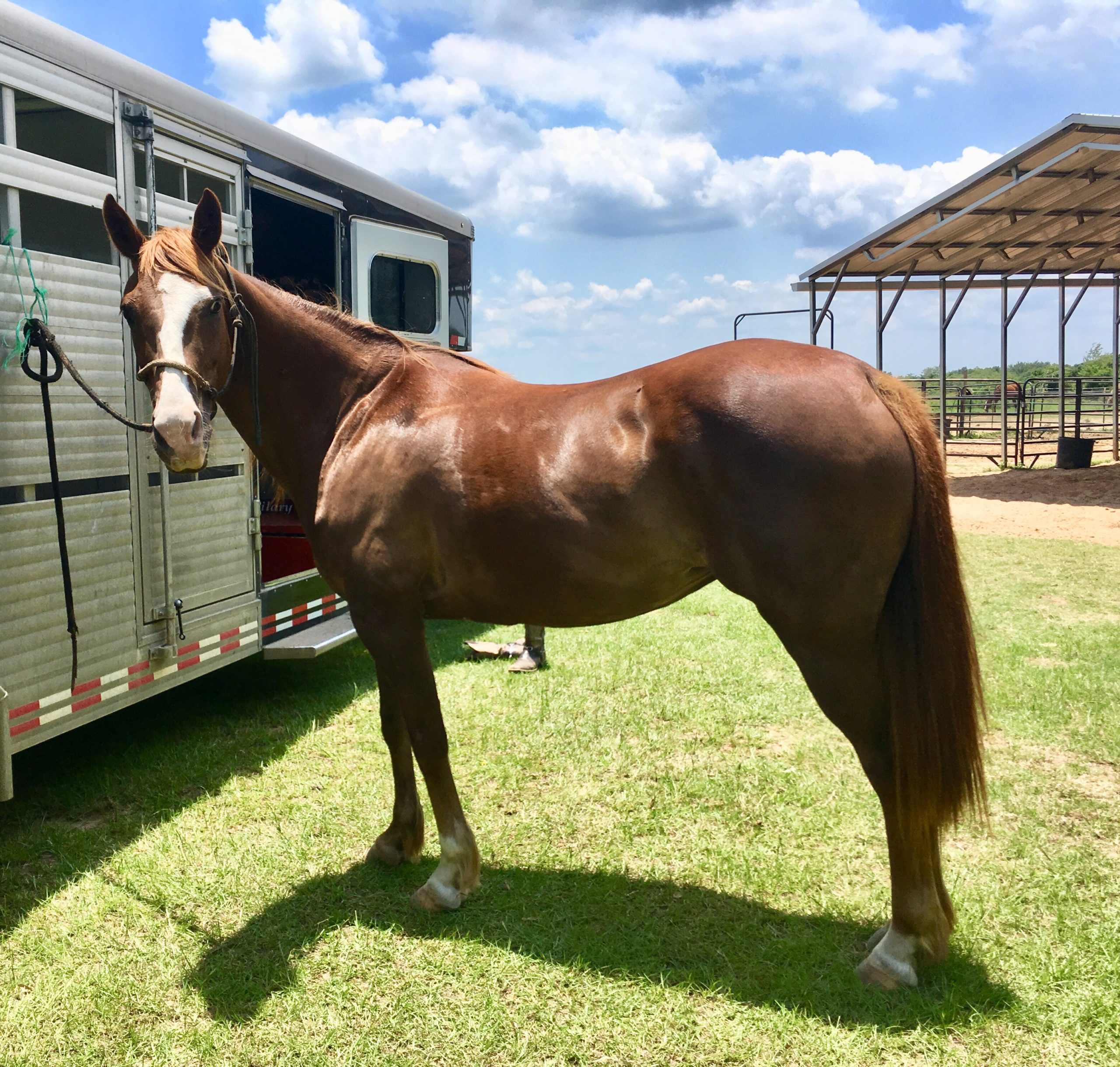 | | |
| --- | --- |
| Name: Caledonia | Status: Bluebonnet Rescue Horse Training Challenge |
| Adoption Fee: $1800 | Arrived At Rescue: September 11, 2017 |
| Location: Cyprss, TX | Adoption Date: |
| Registered: None | Breed: Grade |
| Date of Birth: January 1, 2003 | Color: Chestnut / Sorrel |
| Gender: Mare | Height: 14.1 |
Caledonia was paced with Bluebonnet after Hurricane Harvey when her owner could no longer keep her.
Caledonia will be competing under saddle in the Professional division of the Bluebonnet Rescue Horse Training Challenge with trainer Maddison Amason. She will be available for adoption at the Challenge during the Bluebonnet Horse Expo on October 17, 2020 in Taylor, Texas.
You can follow their progress on their Facebook page.
Evaluation and Training
Caledonia's former foster home feels like she has probably been ridden in the past, but it was either a long time ago, she was handled roughly, or both. She can be very pushy on the ground – she seems to have learned how to push into people to evade. Her foster home was working on these problems when Caledonia was picked up by a Training Challenge trainer. Unfortunately, the trainer only got to work with Caledonia a handful of times (no fault of Caledonia's). She worked on her ground manners and saddling.In October 2018, Caledonia went to Darrell Gardner Horsemanship in Bryan, Texas for training. Darrell says that Caledonia is a pretty nervous mare who was scared of everything when she arrived. He spent a lot of time working with her on the ground and after her time there she would work through obstacles in hand and ride in an arena. In early 2019, Caledonia went to trainer Hilary LoBue for more training. Hilary discovered Caledonia had a strong fear of saddles and worked with her for months to help her overcome this fear. Hilary worked hard to establish trust with Caledonia, and now Caledonia will stand for saddling most days. However, sometimes she will circle while being saddled. She also moves when being mounted so it is important to keep her nose tipped in. She is very nervous with a rider still. Caledonia has spent July to October 2019 with trainer Lauren Herr preparing for the Fall Training Challenge. Lauren has spent an extensive amount of time gaining Caledonia's trust and helping her work through her fears and reactivity. They have continue working on Caledonia's saddling issues to build her confidence. Lauren said "Caledonia has made a lot of progress with saddling but still has a reaction to being saddled while tied. Saddling at liberty in the round pen allows her to make a clear choice. Stay and conserve energy for an actual emergency or leave and go to work. Preventing the flight response can cause more trauma so I allow her to leave but help her flee a little longer and faster than she would like to." Lauren has continued to help Caledonia progress using round pen work, ground driving, working at liberty. They have recently completed a few rides but Caledonia is still fearful and reactive under saddle.She will only be available to an experienced rider who is quiet, calm, and kind and would like to work through Caledonia's issues and help her achieve her potential. She is a cute mare and she tries so hard, but she'll need someone who can encourage her. Rough or hasty handling will make her revert.
Caledonia will be spending June-October 2020 with trainer Maddison Amason to work under saddle and on the ground.
| | |
| --- | --- |
| Trailers: Yes | Bucks: She did when first started under saddle. |
| Leads: Yes | Bites: No |
| Ties: Yes | Catches: Yes |
| Trims: Yes | Bathes: Yes |
| Clips: Unknown | Rears: No |
| Kicks: No | |