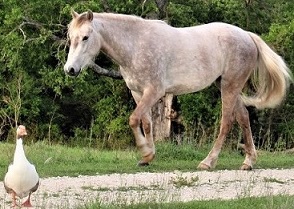 | | |
| --- | --- |
| Name: Trenadie | Status: Bluebonnet Rescue Horse Training Challenge |
| Adoption Fee: not yet available | Arrived At Rescue: September 11, 2017 |
| Location: Bastrop, TX | Adoption Date: |
| Registered: None | Breed: Grade |
| Date of Birth: January 1, 2017 | Color: Grey |
| Gender: Filly | Height: 13.3 |
Trenadie was placed with Bluebonnet Equine Humane Society after Hurricane Harvey by her owner. She had not been handled at all before coming to Bluebonnet, and her foster home got her healthy, weaned her from her dam, and started working with her. She met her adopter in July 2018, but she was returned because she has not grown as much as the adopter hoped and will be too small.
Evaluation and Training
Trenadie is a cute mare who has lots of potential. She currently stands 13.3 hh and has turned into a beautiful dappled gray. Trenadie had no handling when she came to Bluebonnet, but she has been working to be a good equine citizen. She can be caught, led, and will stand tied. Trenadie readily enters a trailer and will back out quietly. She quickly gives her front feet, and all four have been trimmed. She has been around a number of other animals – cattle, goats, dogs, emus, llamas, and poultry.Trenadie can be nervous and would benefit from exposure to a variety of situations and a good deal of desensitizing. For the right person, though, Trenadie is going to be a lifelong friend and working/riding horse.
| | |
| --- | --- |
| Trailers: Yes | Bucks: No |
| Leads: Yes | Bites: No |
| Ties: Yes | Catches: Yes |
| Trims: Yes | Bathes: Unknown |
| Clips: Unknown | Rears: No |
| Kicks: No | |