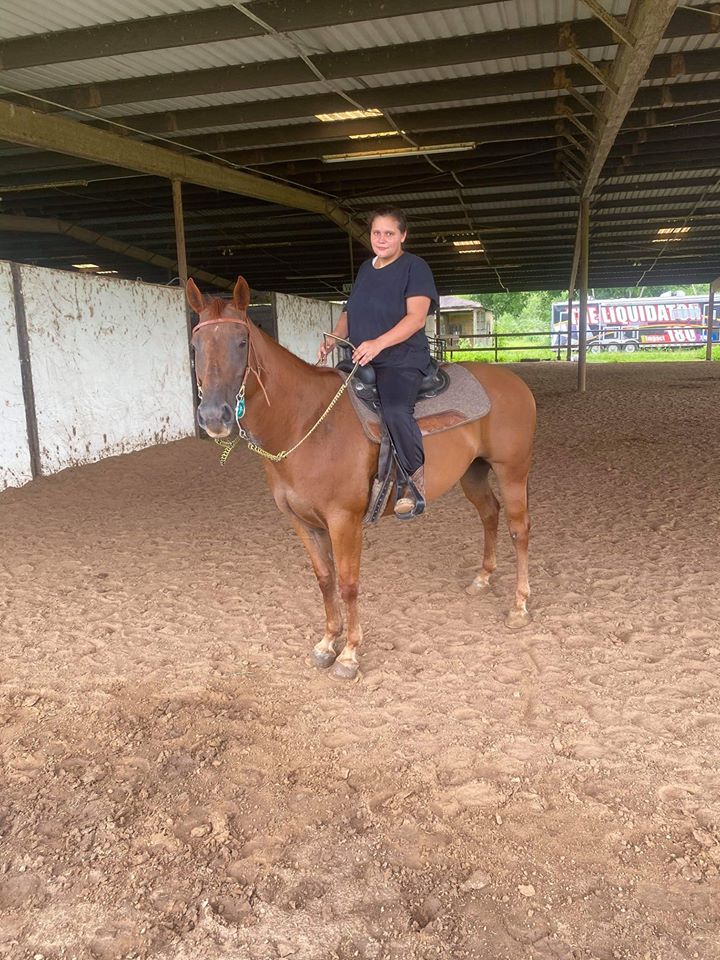 Name: Autumn
Status: Bluebonnet Rescue Horse Training Challenge

Adoption Fee: $1500
Arrived At Rescue: December 20, 2017
Location: Santa Fe, TX
Adoption Date:
Registered: None
Breed: Grade
Quarter Horse

Date of Birth: January 1, 2012
Color: Chestnut / Sorrel

Gender: Female
Mare

Height: 14.1
Autumn was placed with Bluebonnet when her owners could no longer keep her.
She is a sweet mare most of the time, but she did kick at her first foster home. She has not kicked at people in her subsequent foster homes.
Autumn will be competing under saddle in the Non-Pro Under Saddle division of the Bluebonnet Rescue Horse Training Challenge with Brittany Berchok. She will be available for adoption at the Challenge during the Bluebonnet Horse Expo on October 17, 2020 in Taylor, Texas.
You can follow their progress on their Facebook page.
Evaluation and Training
Her previous owner was told she was only a broodmare, but she was evaluated by a trainer when she arrived at Bluebonnet. They discovered she had been started under saddle and was rideable. She was calm with the saddle, the rider, and the rider's leg pressure. She did not seem to know much, so she went to Kelly Lazo for the 2019 Bluebonnet Rescue Horse Training Challenge. Kelly restarted Autumn under saddle and began trail riding her.
She's spending June-October with a non-pro rider to prepare for the fall Bluebonnet Rescue Horse Training Challenge. They're working in an arena and over trail obstacles.
| | |
| --- | --- |
| Trailers: Yes | Bucks: No |
| Leads: Yes | Bites: No |
| Ties: Yes | Catches: Yes |
| Trims: Yes | Bathes: Unknown |
| Clips: Unknown | Rears: No |
| Kicks: She kicked at people in her first foster home but has not since then. | |