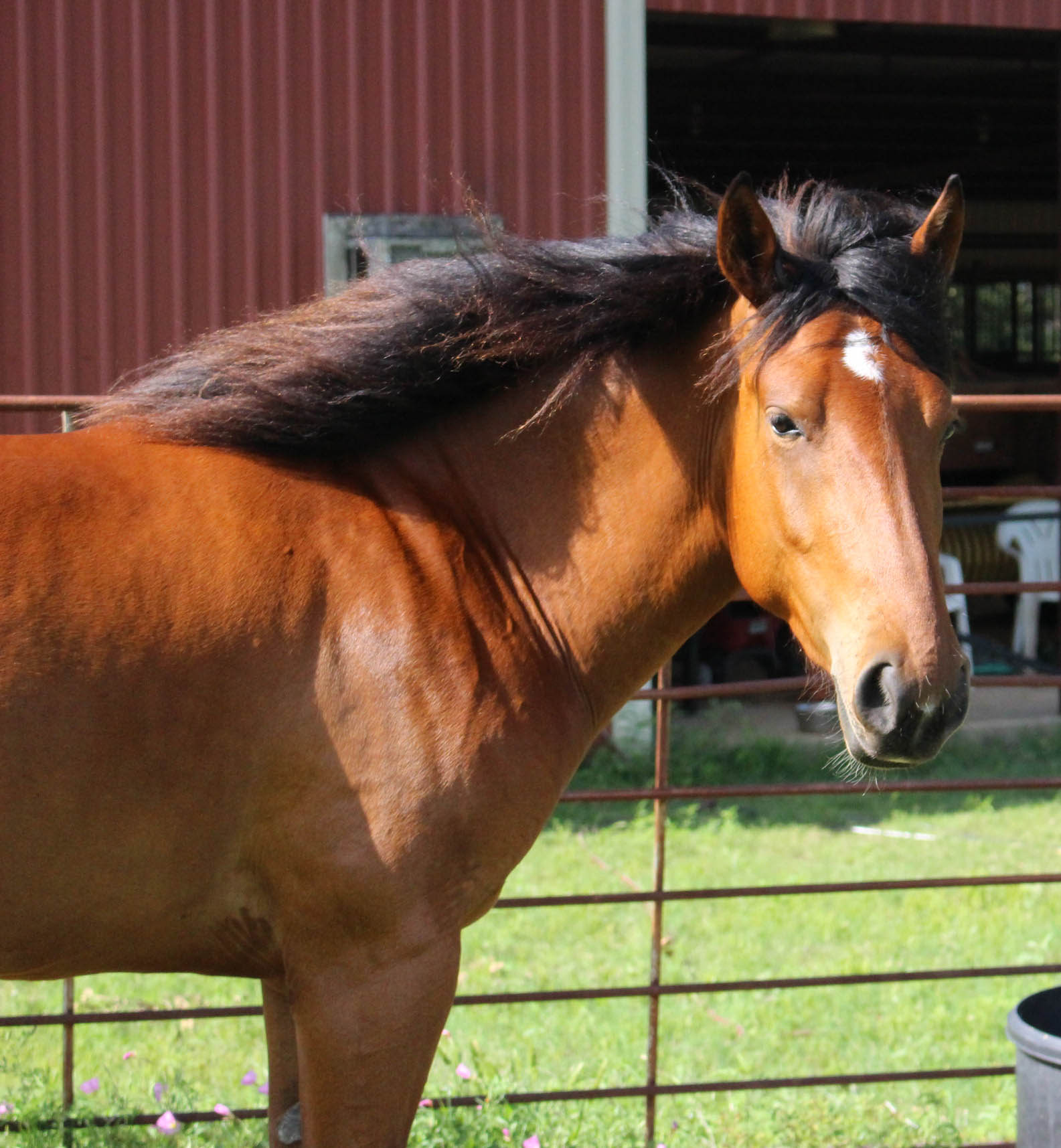 | | |
| --- | --- |
| Name: Cissy | Status: Adopted |
| Adoption Fee: | Arrived At Rescue: May 25, 2017 |
| Location: Cat Spring, TX | Adoption Date: August 15, 2020 |
| Registered: None | Breed: Grade |
| Date of Birth: January 1, 2017 | Color: Bay |
| Gender: Mare | Height: 14.1 |
Cissy was taken from a neglect case, along with her 2 year old sister/pasture mate, Cassiopeia, and five other horses in May 2018. She was very thin, but started gaining strength and energy the day she was rescued. Cissy is calm and sweet and LOVES attention. She follows her foster caregivers around like a puppy. She is energetic, very curious and willing. Cissy's curious and willing nature will make her a brave and fun horse for just about anyone.
She was in the professional division of the spring 2020 Bluebonnet Rescue Horse Training Challenge and was started under saddle.
Cissy was training to compete in the Non-Pro Under Saddle division of the Bluebonnet Rescue Horse Training Challenge. Her trainer decided she just couldn't let Cissy go so she adopted her!
Evaluation and Training
Cissy hadn't been handled much when she came to Bluebonnet, and her foster home has done a great job working with her. Her first foster home said she's sweet and smart - but she's bored hanging out in pasture and really wants an adopter who will spend time with her!
She is very friendly – just call her and she comes for scratches and attention. She pays close attention to what you are doing. Lately she's been watching how all the gates open and close and will play with the chains, which we have to double clip, to try to open the gate.She loves to be groomed, she stands for the farrier, she ties – she paws when tied – but she hasn't sat back. She has been blanketed on multiple times over the winter with no issue, even taking it off and on over her head. She did manage to get her blanket off couple of times – without damage. Little Houdini!She is aggressive with other horses. On the other hand, she gets very upset if she can't be near or see the others. She may be better off in a home where she can be separated from, but not the only horse. That could change as she matures and gets some further training. She's very smart, learns things very quickly. She is reactive and will spook, and can be disrespectful and try to dominate her handler. She will need someone experienced and firm but gentle, that shows leadership but in a non-threatening way. Once she understands who's in charge, she settles down, but she will try to push you around first. She's ready to get to work and have something to do – she has a lot of energy and her mind is working continuously.
She was started under saddle in the spring of 2020 by trainer Brent Riley and is now spending three months with Bernie Wilimitis for additional riding. She's a fearless little mare who will make someone a nice working, pleasure, or trail horse.
| | |
| --- | --- |
| Trailers: Yes | Bucks: No |
| Leads: Yes | Bites: No |
| Ties: Yes | Catches: Yes |
| Trims: Yes | Bathes: Yes |
| Clips: No | Rears: No |
| Kicks: No | |