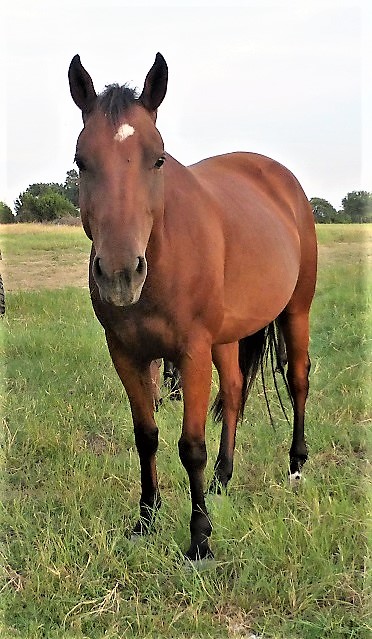 | | |
| --- | --- |
| Name: Kiera | Status: Bluebonnet Rescue Horse Training Challenge |
| Adoption Fee: Not currently available. | Arrived At Rescue: June 13, 2018 |
| Location: Burleson, TX | Adoption Date: |
| Registered: | Breed: Grade |
| Date of Birth: January 1, 2014 | Color: Bay |
| Gender: Mare | Height: 13.3 |
Kiera and her herd mates were surrendered to Bluebonnet when their owners were investigated for neglect. Kiera moved to a new foster home in the summer of 2019, and that foster home fell in love and decided to adopt her. Kiera was returned in July 2020.
Evaluation and Training
Kiera is a nice little mare with a ton of potential. She has good conformation, no blemishes, and a lovely head with big, kind eyes. She was very thin upon intake and seemed to lack any training. Her trusting, sweet demeanor, however, leads us to believe Kiera was neglected but not mistreated. She will readily approach someone and is friendly to a fault - she doesn't respect a handler's personal space. The first farrier visit did not go well, so she will need a lot of work before she gives her feet readily. Given her youth, we are optimistic Kiera will be highly trainable.
| | |
| --- | --- |
| Trailers: Yes | Bucks: No |
| Leads: Yes | Bites: No |
| Ties: Learning | Catches: Yes |
| Trims: Learning | Bathes: Unknown |
| Clips: Unknown | Rears: No |
| Kicks: No | |