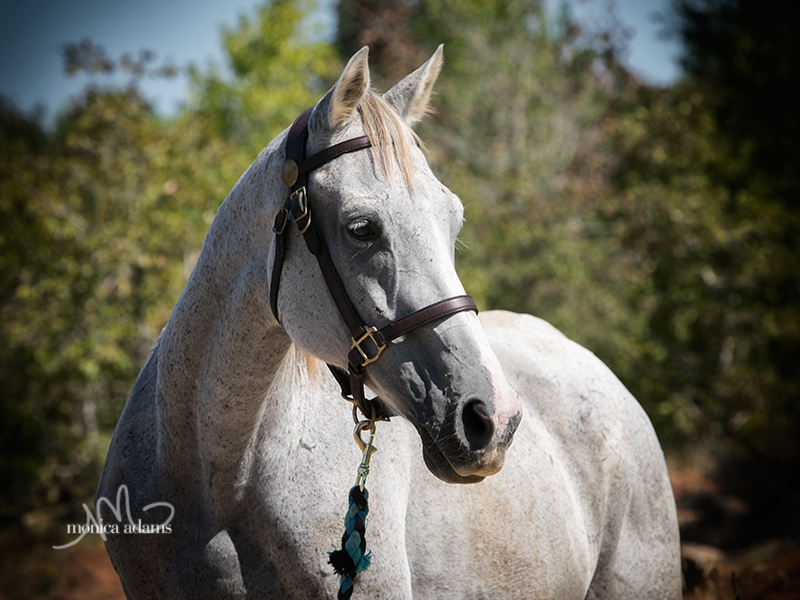 | | |
| --- | --- |
| Name: Magnolia | Status: Bluebonnet Rescue Horse Training Challenge |
| Adoption Fee: Not currently available. | Arrived At Rescue: September 15, 2018 |
| Location: Smithville, TX | Adoption Date: |
| Registered: None | Breed: Thoroughbred |
| Date of Birth: January 1, 2005 | Color: Grey |
| Gender: Mare | Height: 15.3 |
Magnolia was removed from negligent owners by law enforcement and placed with Bluebonnet Equine Humane Society by a humane society.
You can follow Magnolia on her Facebook page by*CLICKING HERE*.
A very special thanks to Monica Adams Photography for the beautiful pictures of Magnolia! You can visit her website at www.monicaadams.com.
Evaluation and Training
She is spending time with an experienced foster home from June-October 2020 to prepare for the Bluebonnet Rescue Horse Training Challenge. They're going to focus on ground work but may get further in her training.
Magnolia had not been handled much when she came to Bluebonnet. She spent time with two trainers to work on halter training, and she can now be haltered and lead. She spent June-October with a non-pro to prepare for the 2020 Bluebonnet Rescue Horse Training Challenge in hand division. Her Challenge partner taught her to be better about being caught, stand for fly spraying, stand for the farrier, navigate trail obstacles in hand, and carry a saddle. She even sat on Magnolia once.
Magnolia is not considered even green broke, and she may regress a little with a new person until that person earns her trust. But Magnolia has a lot of try and wants so badly to please her person. She's not too old to train to ride, and we think she's going to make someone an amazing partner.
| | |
| --- | --- |
| Trailers: Yes | Bucks: No |
| Leads: Yes | Bites: No |
| Ties: Learning | Catches: Yes |
| Trims: Yes | Bathes: Yes |
| Clips: Unknown | Rears: No |
| Kicks: No | |