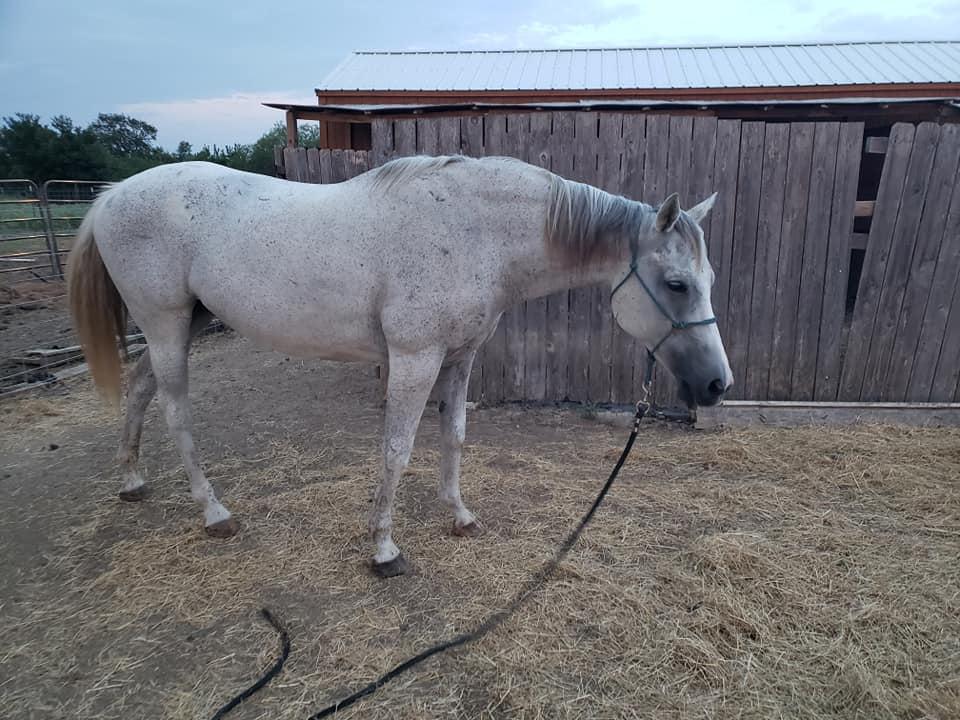 | | |
| --- | --- |
| Name: Magnolia | Status: Bluebonnet Rescue Horse Training Challenge |
| Adoption Fee: $600 | Arrived At Rescue: September 15, 2018 |
| Location: Smithville, TX | Adoption Date: |
| Registered: None | Breed: Thoroughbred |
| Date of Birth: January 1, 2005 | Color: Grey |
| Gender: Mare | Height: 15.3 |
Magnolia was removed from negligent owners by law enforcement and placed with Bluebonnet Equine Humane Society by a humane society.
Magnolia will be competing under saddle in the Non-Pro In Hand division of the Bluebonnet Rescue Horse Training Challenge with Mary Rangel. She will be available for adoption at the Challenge during the Bluebonnet Horse Expo on October 17, 2020 in Taylor, Texas.
You can follow their progress on their Facebook page.
Evaluation and Training
Magnolia had not been handled much, if any, before coming to Bluebonnet. She spent time with a trainer for basic handling and halter training, and she can now be caught (with patience) and leads.
She is spending time with an experienced foster home from June-October 2020 to prepare for the Bluebonnet Rescue Horse Training Challenge. They're going to focus on ground work but may get further n her training.
| | |
| --- | --- |
| Trailers: Yes | Bucks: No |
| Leads: Yes | Bites: No |
| Ties: Unknown | Catches: Learning |
| Trims: With sedation | Bathes: Unknown |
| Clips: Unknown | Rears: No |
| Kicks: No | |