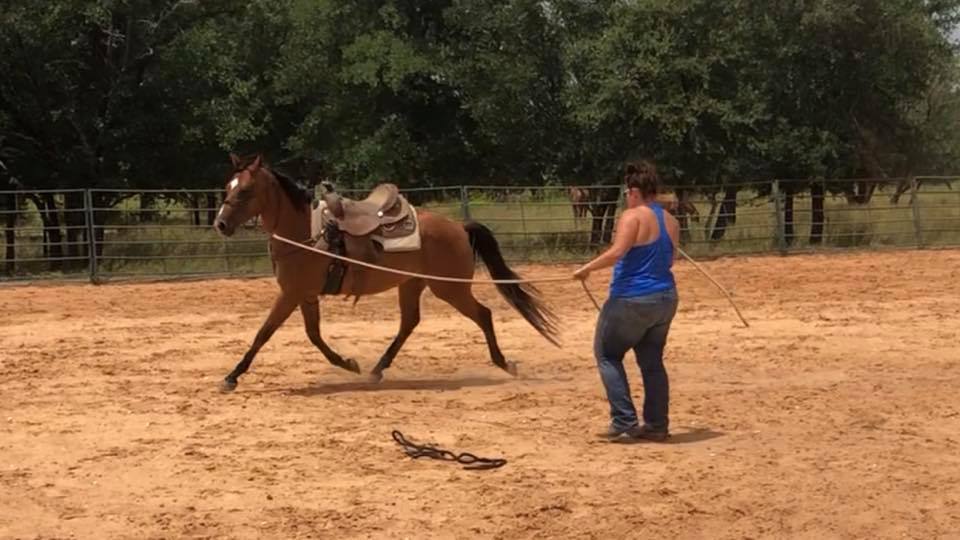 Name: Bonham
Status: Adopted
Bluebonnet Rescue Horse Training Challenge

Adoption Fee:
Arrived At Rescue: March 8, 2020
Location: Kempner, TX
Adoption Date: October 9, 2020
Registered: No
Breed: Arabian
Arabian Cross

Date of Birth: January 1, 2015
Color: Bay

Gender: Gelding

Height:
Bonham was surrendered to Bluebonnet when his owner was investigated for neglect. He had been handled some, but he didn't have much training when he arrived.
He's a very cute and friendly guy who is also a nice mover. He's got so much potential!
Bonham will be competing under saddle in the Professional division of the Bluebonnet Rescue Horse Training Challenge with trainer Anna Howard. He will be available for adoption at the Challenge during the Bluebonnet Horse Expo on October 17, 2020 in Taylor, Texas.
You can follow their progress on their Facebook page.
Evaluation and Training
Bonham was halter broke when he arrived at Bluebonnet, but he didn't appear to have any more training. He is spending June-October with trainer Anna Howard. He's being started under saddle and should have a nice foundation by the time he's ready to go up for adoption.
He's such a young guy that he could do almost anything: trails, endurance, open shows, etc.
| | |
| --- | --- |
| Trailers: Yes | Bucks: No |
| Leads: Yes | Bites: No |
| Ties: Yes | Catches: Yes |
| Trims: Yes | Bathes: Unknown |
| Clips: Unknown | Rears: No |
| Kicks: No | |